Program Overview:
The Emerging Philanthropist Program (EPP) seeks to engage Harrisburg's emerging business and community leaders with the great possibilities that lie within philanthropic endeavors in our region.
What does it mean to be philanthropic?
How do I understand the needs of our community?
What can I do to make an impact?
EPP provides resources and educational opportunities for Harrisburg's developing leaders who wish to be actively engaged in giving back to their community.
Topics Covered
Needs of the community
Grantmaking 101
Giving back to your community
Fundraising 101
Personal philanthropy
Wealth management practices
In the culminating experience, the class applies their newly learned community and grantmaking skills by awarding a grant to a nonprofit organization in a funding priority chosen by the class after assessing community needs. Since 2014, the Emerging Philanthropist Program has granted $15,000 to nonprofit organizations serving the Harrisburg area.
Emerging Philanthropists Fund
The Emerging Philanthropists Fund was created in 2014 by the inaugural class of EPP. The fund benefits the EPP program and ensures there will always be funds for this program and the capstone grantmaking process.
Please click here if you would like to contribute to the Emerging Philanthropists Fund.
Harrisburg Hoopla: Competing for a Cause
Join us for an adult field day filled with live music, food, drinks, and fun! A portion of the proceeds benefits the Emerging Philanthropists Fund! Click here for more information and to register.
2017 EPP Class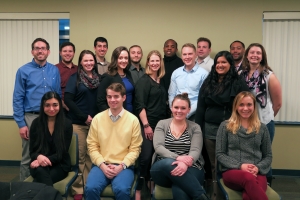 Pictured: Back row (left to right): Jeremy Arnold, Michael Rabin, Samuel Fahringer, Yinka Adesubokan, Jacob Dentler, Javaris Turner; Middle row (left to right): Nathan Reichert, Kristen Connolly, Erica Koup, Amanda Levan, Nicholas Lentz, Monika Kohli, Emma Missey; Seated (left to right: Geeta Lalvani, Daniel Lupia, Skye Leppo, Elizaveta Zhmurkin; Not pictured: Lucy Troutman

TFEC and HYP continued EPP with a new class in January 2017 of 18 individuals. They will be meeting for 11 sessions in 2017 to learn about local Harrisburg community, its nonprofit organizations, philanthropy and wealth management practices, and grantmaking processes.
2017 EPP Class Resources
Derek Whitesel, Executive Director, HYP talks with Jill Horner of Comcast Newsmakers about the Emerging Philanthropist Program