Developing Fine Motor Skills
Science Exploration
Play Practice
Reading with Dad
Arts and Crafts
Social Interaction
Reading a Book
Play Rehearsal
Social Engagement
Leader in Me School
Reading with My Teacher
Fine Motor Skill Development
Quality Time with Mom
Social Interaction on the Playground
Reading a Book with Dad

Welcome!
Parents & Partners provides support for the whole family, broadens community resources by giving children and their families the tools they need to be successful, and builds strong partnerships between the community, early learning providers, and the schools.
Parents
Parents & Partners provides support for families with young children along with ideas and resources for busy parents to improve your child's success in school.
Please click here for free resources available for parents with children ages 3 – 6.
Children
Parents & Partners gives the following free items to children ages 3 – 6 in the Harrisburg School District and Dauphin County:
School and art supplies
Books
Reading lists
Activity recipes
Please click here for free resources for children ages 3 – 6.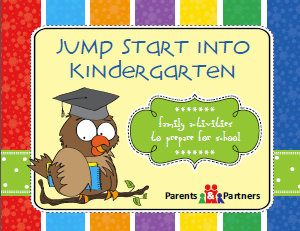 The Jump Start to Kindergarten calendar is a great resource filled with activities and resources! Call 717.236.5040 or email info@tfec.org to request a free calendar!
Parents & Partners on Facebook
Like Parents & Parents on Facebook to keep up-to-date with news and information!
Learn More About Parents & Partners
Please click here for more information about Parents & Partners' objective, deliverables, standards requirements, and community and financial partners.
Parents & Partners is a special initiative of The Foundation for Enhancing Communities and is made possible in-part by a grant from the Pennsylvania's Office of Child Development and Early Learning (or OCDEL) Race to the Top-Early Learning Challenge Grant.
News & Events about Parents & Partners
Now what? What happens after a report is made?
Webinar for staff and volunteers of early childhood education programs, family support programs and other mandated reporters of suspected child abuse or neglect
Two sessions will be offered: Thursday, May 19, 2016 from 6:30pm – 8:00pm and Friday, May 20, 2016 from 1:30pm – 3:00pm.
There is no cost to attend and no pre-registration is required. Instructions for accessing the webinar will be posted on this site a few days before the training date.
This training is presented by Pennsylvania Family Support Alliance and sponsored by Parents & Partners.
Click here for more information.
---
Proven Paths to Better Employees
May 26, 2016 | 8:00am – 10:30am | Central Penn College, 600 Valley Road, Summerdale, PA 17093
Proven paths to better employees start well before an eager person submits a job application. It starts at home, with parents who have the time and resources to support their children's growth. That means having a family-friendly employer. What is a family-friendly workplace? Central Pennsylvania knows, and can share its experiences and the benefits – for the employer, for the employees, and for the children. Join us for an informational breakfast session and discover how you can help ensure a motivated and productive workforce by thoughtful investments in our children and their families.
Click here for more information or to register!
---
Starting Young: Harrisburg no longer offers pre-K. Several groups are trying to fill the gap. – The Burg Greater Harrisburg Community Magazine