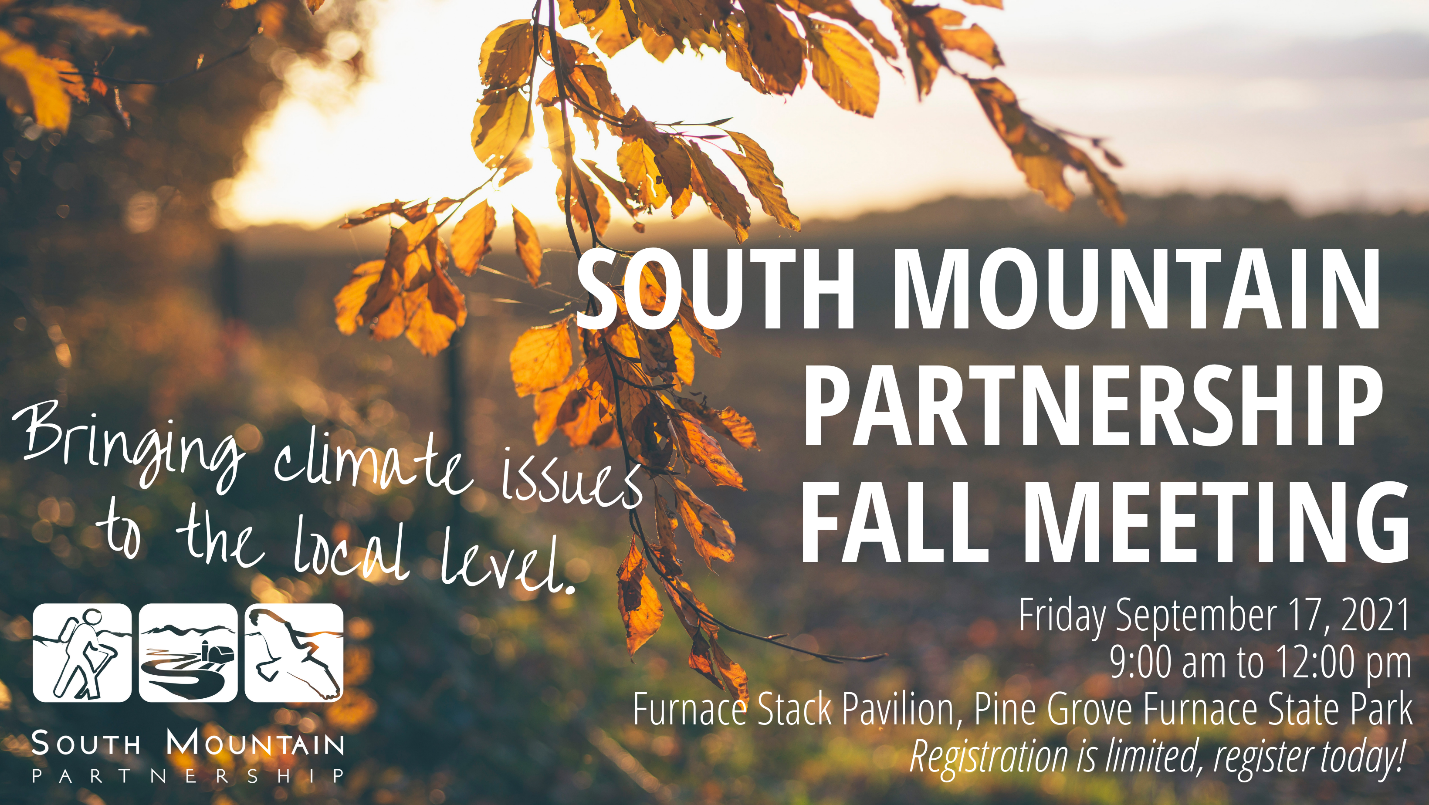 We are excited to return to in person meetings, and the fall meeting will be held outdoors and will follow CDC guidelines, including an attendee cap to ensure social distancing. Twice annually (Spring and Fall), the Partnership holds a Partnership-wide meeting for all partners and any interested individuals or organizations to come together and build relationships and collaborations around the promotion and preservation of our region's landscape resources. This event includes breakfast snacks and coffee offers an optional lunch at cost.
These meetings are a chance to:
• Connect or reconnect with the Partnership, learning more about initiatives and on-going projects
• Build and strengthen our network of people and organizations working throughout the region
• Spark conversation and collaboration across political and sectorial boundaries
• Engage 50+ partners in on-going work throughout the region
• Involve partners in defining the direction of the Partnership
We hope you will join us!
---
About the Event
This Fall, we are responding to the region's need for more knowledge about changing climate. The changing climate can be an overwhelming issue and we will translate this big issue into local understanding, impacts, and actions. Collectively, there is power in taking action how we can, where we can. Regionally, we can make an impact that will protect and strengthen our quality of life, environment, and sustainable economic development goals. Diverse speakers will cover how the changing climate is likely to affect us and actions already being taken by local governments, organizations, and individuals in the South Mountain region.
Following the event there will be an optional lunch and tour of the Appalachian Trail Museum. A boxed Lunch is available for $12, you must select this option during registration, you are also welcome to bring a bag lunch. Please also consider signing up for a tour of the AT Museum during registration.
---
Thank You to Our Event Sponsors
---
Speakers
Cumberland County Commissioners (invited)
Appalachian Trail Conservancy (invited)
Elizabeth Grant, SMP committee member and Cumberland County Planning Department (confirmed)
Julia Chain, SMP staff
Katie Hess, SMP staff
Kirk Stoner, Cumberland County Planning Department (confirmed)
Stephanie Williams, SMP committee member and Cumberland County Planning Department
Tyler Semder, PA Dept of Conservation and Natural Resources (confirmed)
*To include speakers from local organizations working on climate and climate-related projects
---
Event Details
---
Agenda
Informal networking, coffee and light snacks begin at 8:30 am
---
"The South Mountain Partnership Fall Meeting has reached capacity and registration is closed.
We are so appreciative of all who registered and look forward to seeing folks in person.
To offer COVID-19 safety measures and social distancing our registration was capped at 50 people, we apologize for any inconvenience this may cause."