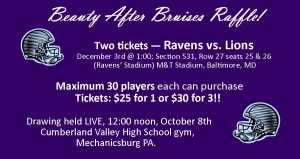 Beauty After Bruises proudly presents our 3rd Annual Baltimore Ravens' Ticket Raffle.
Space is Limited!
A maximum of 30 participants can purchase a raffle number for the chance to win two tickets the December 3, 2017 Ravens/Lions game. The game is at 1:00pm at the Ravens' M&T Stadium in Baltimore. Seats are in section 531, row 27, seats number 25 & 26.
Ticket Booster
Each of the 30 participants has the option of purchasing one chance with their assigned number for $25 or increasing their odds by adding two additional entries with the same number to the ticket-turner for only $5 more! Tickets are numbered one through thirty. Your odds of winning will vary depending on the number of booster options purchased.
Ticket Drawing
The drawing will occur on October 8, 2017 at 12:00pm in the gymnasium of the Cumberland Valley High School (Carlisle Pike, Mechanicsburg) during the lunch break of Beauty After Bruises Zumbathon event. It is our intention to bring the drawing to you through a live Facebook feed directly from our Beauty After Bruises fan page!
Do not wait to get your tickets. Only 30 players can participate!
Thank you to Michael Garrison for donating these tickets to Beauty After Bruises! It is with the support of individuals like Mike and those of you who purchase tickets that help us support those we serve!
All funds support Beauty After Bruises. Visit the Beauty After Bruises website at www.Beautyafterbruises.org to learn more about those they serve.
---