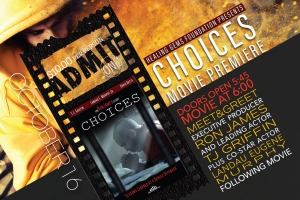 "CHOICES" is an inspiring faith-based film based on the life of Ronald James. The film chronicles his emotional, heartfelt, amusing, and thought provoking journey through his personal battles, decisions, and the consequences that led him to pay the ultimate price with his life and time.
The movie is a compelling, inspirational autobiography feature film that shares life-changing wisdom for anyone who wants to begin making better choices today.
A talk back with Executive Producer Ron James and Lead Actor T.J. Griffin and a performance by America's Got Talent Winner Landau Murphy Jr. will follow the "CHOICES" movie premiere.
"A series of bad choices led me into a life of crime. Some would say bad parenting caused my problems; some would say my circle of friends, luck, chance or people, places or things. However, I would say it's all about choices – so much so that after spending 25+ years in and out of prison, I was finally challenged to write my book, called "CHOICES". The decisions you make and their consequences every single day determine who you become. Every choice has a consequence – good or bad – and whether you choose to make good choices or bad choices, your life will be the result of those consequences". – Ron James
Event Information
Date:
Tuesday, October 16, 2018
Schedule:
Doors open at: 5:45pm
Movie at: 6:00pm
Location:
Daybreak Church
(Good Hope Campus)
1920 Good Hope Road
Enola, PA 17025
Additional Details
To inquire about group discounts please email us.
FOLLOW US on Facebook and our Facebook event group. We encourage you to visit and learn more about all of our upcoming events! For more information on our mission visit our website at www.healinggems.net.