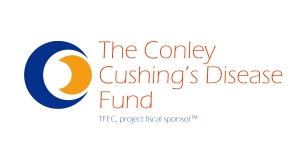 The Conley Cushing's Disease Fund was established on July 17, 2014 and is a project of The Foundation for Enhancing Communities, fiscal sponsor. The funds raised will be used in part to create awareness and advocacy for patients and their loved ones who are suffering from this disease as well as support institutions and organizations focused on research and treatment surrounding Cushing's Disease.
2016 Cushing's Krewe sponsors
Special thank you to our Krewe captain
Hershey Entertainment & Resorts
Governor Tom Ridge
SRA Communications
Pat & Carlene Deon
Stongbridge BioPharma
C. Alan Walker
Conrad O'Brien
Mr. & Mrs. Jonathan B. Mack
Chris & Andrea Abuzzo
Bob Allen
Jean & Chuck Conley
Amanda Crouse
Breakthru Beverage Group
Caramanico Foundation
Cotter Brobson Communications
Committee to Elect District Attorney Jim Martin
Fehlinger Construction Group
Friends of Senator Rich Alloway
Friends of Representative Matt Baker
Friends of Senator Jake Corman
Friends of Senator Joe Scarnati
S. Dale High
Fabiana Kleinot
Kenneth Jarin
Dan Meuser
Partners Press, Inc.
Heather and Scott Paterno
Sue Paterno
Pennsylvania  BIO
Pepsi
Pfizer
Picture Perfect
Pat and John Poprik
Reese Smith & PSAV
Thomas "Buck" Riley
Patrick Solano
Thomas "Doc" Sweitzer
Tommy Tomlinson for Senate
The Bravo Group
Anne Toal Design
Alison Young & David Maser
Wilsbach Distributors, Inc.
Dauphin County Commissioners
~Chairman Jeff Haste
~Vice Chairman Mike Pries
~Secretary George P. Hartwick III
Laissez les bons temps rouler!
(Let the good times roll!)
Sponsor Form
Event Information
| | |
| --- | --- |
| Date: | Friday, November 18, 2016 |
| Time: | 7:00pm – 11:00pm |
| Location: | Hershey Country Club, Hershey, PA |
Cushing's Krewe
As a member of the Cushing's Krewe your support will be recognized on all printed materials, website, signage at the event, from the podium the evening of the event, and in all promotional marketing materials. You will also receive an acknowledgement from TFEC for your charitable contribution for your tax purposes.
All commitments received by September 24, 2016 will receive recognition on printed invitations.
Hotel Rooms
A block of rooms have been reserved under Conley Cushing's Fund.
Hotel Hershey: $199 plus tax
The Hershey Lodge: $139 plus tax
Click here to book online or call 800-HERSHEY.
Please contact Marie with any questions at marie.conley@live.com | kickcushings.com
---