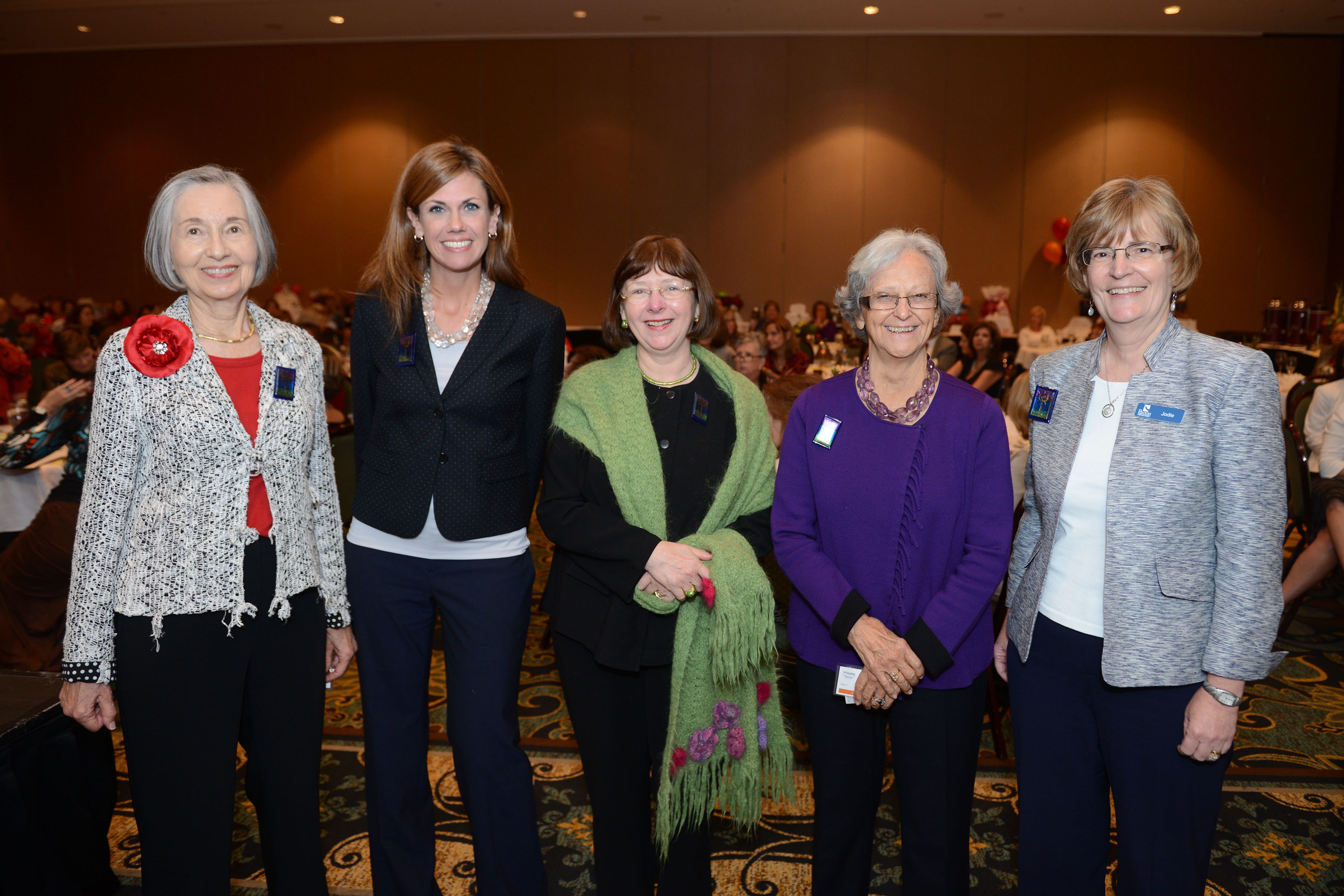 Dream Team Members: Gail Siegel, Jessica Ritchie, Dr. Mary Simmonds, Ashie Santangelo, and Jodie Smiley
History
The Dream Team was established in 2011 with a goal and purpose of encouraging 1,000 women to donate $1,000 each to create a permanent $1 million endowment. From the endowment, annual grants are made available to local nonprofit organizations that provide services to women and girls in the South Central PA counties of Cumberland, Dauphin, Franklin, Lebanon, and Perry, and the Dillsburg Area.
Become Part of the Movement
$16.66 – Dream It. Charge It. Change It!
You too can become a Dream Team member by pledging $1,000 tax-deductible donation to the Women's Fund, payable over a 5 year period. By joining the Dream Team, you will help the Women's Fund reach their $1 million endowment goal and increase the amount of grant dollars going to local nonprofit organizations supporting women and girls.
Click here to start your Dream Team pledge today!
If you have questions, please contact the Women's Fund at WomensFund@tfec.org.
Featured Dream Team Member
The current Women's Fund Dream Team Featured Member is Jessica Ritchie; click here to learn more about her!
Dream Team Members
Dream Level | $1,000

Ms. Marilynn R. Abrams
Ms. Marion C. Alexander
Ms. Anne L. Alsedek
Ms. Jeanne Arnold
Mrs. Nancy C. Aronson
Dr. Irene C. Baird
Ms. Gretchen L. Ballard
Ms. Theresa L. Barnaby
Ms. Cate A. Barron
Ms. Jennifer L. Black
Mr. Michael J. Breslin
Ms. Julia Brinjac
Ms. Ellen L. Brody Hughes*
Ms. Rosemary Browne
Ms. Lynn Burkholder
Ms. Audry Carter
Dr. Christine K. Cavanaugh
Ms. Jennifer Charlton
Ms. Jewel Cooper
Ms. Jennifer CruverKibi
Ms. Renee Custer
Ms. Carole Dascani
Ms. Carman Dent
Ms. Joy B. Dougherty
Ms. Jennifer Doyle
Ms. Mary Dumaresq
Ms. Patricia (Tita) Eberly
Ms. Paula J. Faralli
Leslie M. Fields, Esq.
Ms. Jeanne Foster
Suzanne S. Friday, Esq.
Ms. Deb Fulham-Winston
Ms. Clare C. Garfield
Ms. Traci Gentry
Ms. Karen M. George
Mrs. Richard S. Goldsmith
Ms. Margaret Hathaway
Mrs. Maxine A. Haynes
Ms. Marielle Hazen
Mrs. Helen Heidelbaugh

Ms. Sylvia Hepler
Ms. Linda A. Hicks
Dr. Robyn Holder
Mrs. Joan R. Holman*
Ms. Debra Hoover
Ms. Betty Hungerford
Ms. Alice M. Kirchner
Ms. Stacy Klann
Ms. Joanne Kleppinger
Ms. Ruth Koup
Mrs. Ruth Ann C. Kroh
Ms. Linda C. Kutz
Ms. Ellen Kyzer
Ms. Lauren Lagin
Ms. Dolly Lalvani
Ms. Karen Lehman
Ms. Lorena F. Lemons*
Renee L. Lieux Esq.
Ms. Kelly Light
Ms. Julia Mallory
Ms. Sharon Mattern
Ms. Barbara McLemore
Ms. Kathryn McCorkle
Ms. Elizabeth Mihmet
Ms. Kristen Olewine Milke
Ms. Barbara G. Minzenberg
Ms. Ann H. Moffitt
Ms. Diane Mulcahy
Elizabeth P. Mullaugh, Esq.
Ms. Leah Muroff
Ms. Helen Nauman
Ms. Lynn Millar Neely
Ms. Amy C. Nilsen
Ms. Elaine Nissley
Ms. Kathy Pape
Ms. Anandi Patel
Ms. Kathleen Pavelko
Ms. Jeannine Peterson
Ms. Jane Ransom
Velma A. Redmond, Esq.
Ms. Jessica Ritchie
Ms. Lisa Ritter
Ms. Debra Ryan
Ms. Ashie Santangelo
Ms. Donna Schankweiler
Ms. Alexa Schwab
Ms. Madison Schwab
Dr. Michele Sellitto
Ms. Gail Siegel
Dr. Mary Simmonds
Ms. Hilary Simpson
Ms. Jodie Smiley
Mr. Todd C. Snovel
Ms. Alyce Spector
Ms. Sylvie St. Hilaire
Ms. Lenora Stern
Ms. Cynthia Tolsma
Hon. Jeannine Turgeon
Ms. Mary Warner
Ms. Mary T. Webber Weston
Ms. Betty Wilson
Ms. Gayle J. Yaverbaum
Ms. Carole E. Yon

Create Level | $2,500

Ms. Janice R. Black
Dr. Carolyn C. Dumaresq
Ms. Norma J. Gotwalt
Ms. Beverlee Lehr

Sustain Level | $5,000

Mr. Benjamin Olewine, III
Ms. Karen Snider

Inspire Level | $10,000

Mrs. E Louise Hepschmidt

Legacy Society of the Women's Fund

Ms. Norma J. Gotwalt

*Deceased