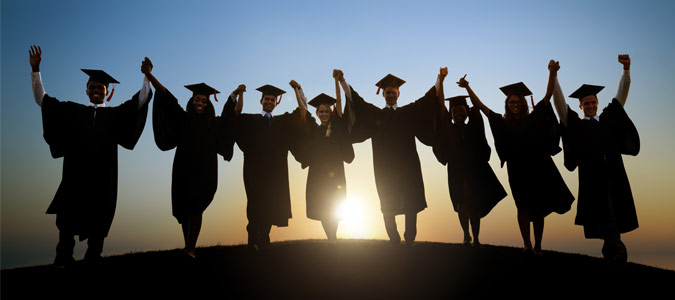 TFEC offers over 120 scholarship opportunities through various scholarship funds administered by TFEC, and through management agreements with the Samuel L. Abrams Foundation, and the Leon Lowengard and Ray S. Shoemaker scholarships of BNY Mellon, N.A. In 2016, more than $1.28 million in scholarships was awarded to 447 students.
All scholarships have been established by generous local individuals, corporations or organizations to assist students with their educational pursuits. Whether honoring loved ones or providing for specific communities, each scholarship expresses a deep belief in the power of education to help today's youth achieve their dreams.
Scholarship Details
We use an online application process for most of our scholarships. Links to the applications are available on this site, along with individual scholarship criteria for each scholarship opportunity.
Click here to search for available scholarship opportunities.
Information on TFEC's scholarship opportunities is also available in local high school guidance offices.
Deadlines vary for each scholarship, so be sure to check each one, but the majority of deadlines are in the spring of the year (February-April).
All applications are returned to The Foundation for Enhancing Communities office, unless otherwise specified for the individual scholarship.
Each scholarship application has required supplemental materials such as reference letters or essays. Please review the scholarship summary carefully for the scholarship(s) you are applying for to ensure that your application(s) is complete. If it is not complete, it will not be considered.
Most applications require a copy of your Student Aid Report (SAR). This is sent to you after you complete the Free Application for Federal Student Aid (FAFSA). The SAR must contain the Expected Family Contribution number (EFC), so please ensure that the copy you send has this number clearly indicated on it; this allows the committee to fully evaluate your financial need. It is important for you to complete the FAFSA as it will assist in matching you with additional resources for financial aid. This application can be completed online at www.fafsa.ed.gov as early as October 1 of the year before you plan to attend college.  If you have trouble obtaining your SAR, please call the Federal Student Aid Information Center at 1-800-433-3243.
How to Apply for a Scholarship
Click here for step by step instructions on how to apply using the online application system.
If you have already started your application but have not yet submitted it, please click here to log in to your account and resume where you left off.
Scholarship Timeline
Click here for a scholarship timeline for high school seniors.
Potential Scholarship Match Program
TFEC is one of 37 partners with the AES/PHEAA Partnership for Access to Higher Education (PATH) program. TFEC scholarship recipients are eligible to have their awards matched on a dollar-for-dollar basis up to $2,500 provided they attend a school in PA and have a PA grant. In 2014, a record number of 98 students received $150,000 in matched funds through the PATH program. For additional information on this program, please visit www.pheaa.org.
Financial Aid Glossary
Click here for a glossary of common financial aid terms.
Scholarship Contact Person
Faith Elmes, Scholarship Associate
Phone: 717.236.5040
Email: felmes@tfec.org