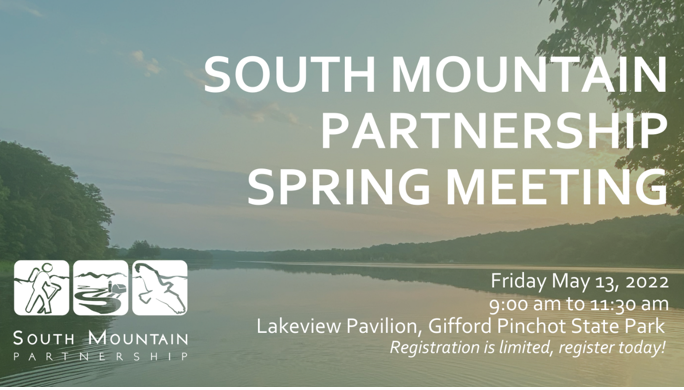 Twice annually (Spring and Winter), the Partnership holds a Partnership-wide meeting for all partners and any interested individuals or organizations to come together and build relationships and collaborations around the promotion and preservation of our region's landscape resources. This event includes breakfast snacks and coffee and will occur outside under a pavilion.
These meetings are a chance to:
–   Connect or reconnect with the Partnership, learning more about initiatives and on-going projects
–   Build and strengthen our network of people and organizations working throughout the region
–   Spark conversation and collaboration across political and sectorial boundaries
–   Engage 50+ partners in on-going work throughout the region
–   Involve partners in defining the direction of the Partnership
We hope you will join us! Registration is limited, reserve your ticket today!
---

About the Event
This Spring our meeting is being hosted by our partners in York County and will feature a spotlight on some of the great work happening across the county. The York County Commissioners and Planning Staff have been invited to welcome and center us within the county. We'll then hear from our "profiles of action", local organizations furthering conservation across our region. Our panel on Nature Based Placemaking will look at the York County Trail Towns as a model for tying recreation, conservation, and economic development together within the region. We will close the meeting with updates: the South Mountain Partnership will introduce our State of the Environment project and we ask you to bring your organizational updates for our closing round robin.
---
Speakers
York County Commissioners (invited)
York County Planning Commission (invited)
Dillsburg Heart and Soul (invited)
Watershed Alliance of York (invited)
York County Economic Alliance (invited)
Julia Chain, SMP staff
Katie Hess, SMP staff
Tyler Semder, PA Dept of Conservation and Natural Resources (confirmed)
---
Event Details
---
Agenda
Informal networking, coffee and light snacks begin at 8:30 am
---
REGISTRATON FOR THIS EVENT IS NOW CLOSED