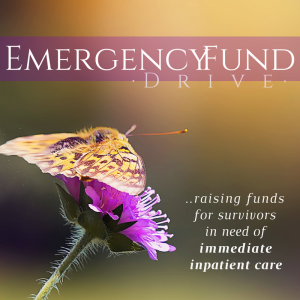 Did you know that there are less than 10 hospitals and an equally limited number of residential treatment facilities specializing in the treatment of Complex PTSD and Dissociative Disorders in the USA? With the often unfair and impossible approval guidelines insurance providers require, particularly those affiliated with State Medicaid and Medicare programs, most patients go without emergent treatment. Those who are fortunate enough to meet the requirements then face the added misfortune of learning that their out-of-pocket expenses must be paid up front, before ever setting foot in the facility. Imagine desperately needing help in order to calm the chaos of flashbacks, intrusive thoughts, suicidal ideology, self-harm, and more, and being told that you are approved for treatment if you can supply the down payment. That down payment typically ranges from $10,000 to $50,000 UP FRONT! This obviously means that many will never receive the treatment they need and deserve. It also means that many in need simply do not survive.
$10,000 | October 15th
One small part of Beauty After Bruises' mission to help bridge the financial gaps in C-PTSD treatment is to maintain an Emergency Fund for situations just like this! We are kicking off that campaign right now as we have a patient in need. It is our immediate goal to raise $10,000 between now and October 15th to help this patient cover that down payment.
$50,000 | December 31st
The campaign will continue on through the end of 2017 so that we can create a $50,000 account earmarked for those who need emergent care. We are hoping you will be a contributor to this important fund!
Thank you!
We respect that every person, household and business has a budget and we are honored that you are sharing a portion with us! We have created special levels of donation, but all donations are welcome. This campaign is occurring solely through social media, so please share it where you can!
We would love to announce your generous donation! When you make your donation below, please indicate if we can share your name and/or your donation amount. If you'd like to remain completely anonymous, your donation will be shared as part of the running total, but you will not receive an individual thank you on our social media channels.
We want to respect and honor you in every way possible.
Thank you for making an impact on the lives of those who are truly at the mercy of the kindness of strangers. Lives will be saved because of people and businesses like you.
---