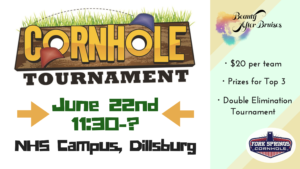 Beauty After Bruises is holding our 4th Annual Party in the Park Cornhole Tournament!! Players of all ages and skill levels are encouraged to enter!!
Prizes will go to the top 3 places. Keep your eyes peeled for additional prizes that may be offered as our volunteers collect donations. This is a double elimination tournament, meaning you continue to advance in play until you lose twice. Come out for an afternoon of fun, family, and competition!
---
Details
10:00 am – 11:00 am | Warm up and board set up
11:15 am | Mandatory Meeting
11:30 am | Play Begins
You may set up boards beginning at 10:00 am and warm up at any time prior to 11:00 am. A mandatory meeting will begin at 11:15 am at the Cornhole canopy to explain tournament rules and play begins at 11:30 am.
This is a double elimination event using ACL rules with slight variance for time restriction only if necessary. Tournament is graciously being officiated by Pascha Kauffman, Founder of York Springs Cornhole.
Individuals may register as well and will be assigned a teammate for play.
For official Cornhole Rules, please see our Cornhole Tournament Facebook page.
You will also receive an email with details of your purchase and Official Cornhole rules.
---
Online registration is now closed.
If there are slots still available on June 22nd, you may register on site.
---
---
Additional Information on Party in the Park
If you'd like information on volunteering your services for Party in the Park, obtaining craft or food truck space, taking a turn in the dunk tank, sharing your organization's talents during the free exhibitions, or registering for Cornhole, Dillsburg's Got Talent, or our Car show, please contact us at 717.461.9916 or BeautyAfterBruises@gmail.com
---
To return to the Main Page of the Party in the Park Event
---