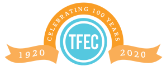 For the greater good of our region, for the next 100 years and beyond.
Today, The Foundation for Enhancing Communities (TFEC) is proud to carry forward the legacy of so many who have helped us strengthen our local communities. As we celebrate our 100-year (+1) anniversary, we hope you'll join us on our journey to continue to invest in our communities today, and well into the future.
$157,503,832
in charitable gifts for funds since 1920
$97,863,070
in grants from TFEC funds since 1920
1,000+
charitable funds established since 1920
We look back in order to look ahead.
How you can support your region in honor of The Foundation for Enhancing Communities' Centennial (+1) Anniversary 
There are many ways you can celebrate TFEC's anniversary and give to your local community for the greater good. Whether you choose to give to the Fund for the Future, an area of interest fund, or a regional community fund, we make it easy to honor our past, create meaningful impact today, and pave the way for future generations.
Community Wishlist Gallery
What is your wish for the community? What do you want to see for our future? Submit your wish for our community here. Or simply tag us on our Facebook (@TFECpa) or Instagram (@TFECpa) pages with your wish and #TFEC100Wishes or upload an image related to your wish and check back here to see wishes for our community. TFEC will compile wishes and strive to grant them.
Not on social? Email your wish or an image to rbuskey@tfec.org and we will post them.
Limited-edition TFEC Centennial notecards available now.
To celebrate our Centennial, local artist, Jonathan Frazier created these unique hand-drawn notecards celebrating notable locations in the counties we serve. Proceeds support the Fund for the Future.