We are immensely appreciative of the partnership we have with our donors and your charitable goals. As your personal charitable partner, we understand that all donors have individual needs and we will work with you to meet your specific philanthropic goals.
Why I Partner with The Foundation for Enhancing Communities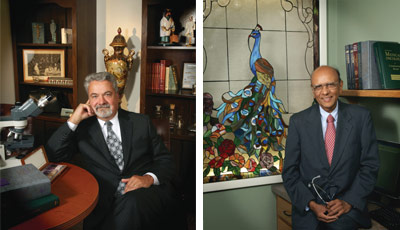 "When we were looking for an organization to help us with our charitable giving, it didn't take long to choose TFEC due to their integrity and long standing reputation of making sound investment decisions. We were happy that TFEC could accommodate our wishes that initial contributions are sent to Vickie's Angels and provide flexibility for us to choose how remaining funds are granted."
– Drs. Andrews and Patel, A. Thomas Andrews & Shashikant B. Patel Charity Fund, Donor Advised Fund
Investment Philosophy
TFEC is a community resource that can customize and maximize your giving today and for years to come. Our investment philosophy and expertise enables you to increase the value of your fund over time while our knowledgeable staff connects you, if interested, with research and resources to make your charitable giving strategic and meaningful.
Click here for more information about our investment management and philosophy.
Growing Your Fund
For information to grow your fund to better achieve your charitable goals, Click here.
Planned Giving – 1920 Legacy Society
In addition to accepting direct contributions, TFEC assists donors in making planned gifts. Often these gifts are deferred based upon personal estate planning and the income needs of the donor. Even though gifts might be deferred, the gifts could have immediate tax benefits. Deferred gifts include bequests, charitable remainder trusts, charitable annuity remainder trust, charitable lead trusts and real estate with retained life interest. Donors who make a planned gift or remember TFEC in their wills are invited to become members of our 1920 Legacy Society. Members of the 1920 Legacy Society receive special recognition in our Annual Report, invitations to all TFEC events, and a special luncheon and gift to thank them for their planned gift.
Please click here for a list of our current 1920 Legacy Society members.
DonorCentral: Granting Made Easy
If you have a Donor Advised Fund, DonorCentral makes granting from your fund easy, convenient and meaningful. DonorCentral lets you suggest grants online and get information about your fund's current value and grant history. Click here to log into your existing DonorCentral account.
For more information about DonorCentral or to get a login and password of your own, contact Kirk Demyan, Chief Financial Officer, at 717.236.5040 or kdemyan@tfec.org.