donors
Outside Investment Accounts
Keep your existing investment managers
Donors with funds in excess of $75,000 may request that TFEC use their personal financial advisor to recommend investment holdings. An Outside Investment Account allows donors to continue to have the responsibility of investing a fund in the hands of his or her trusted personal financial advisor, including bank custodians, bank trust departments, fee-based investment advisors, commission-based brokers, and insurance or mutual fund financial representatives. TFEC, meanwhile, retains fiduciary control of the fund and works with both the donor and the financial advisor to ensure policy compliance. TFEC also receives monthly investment statements and reviews the health of the fund with the advisor annually. Permitted investments include: stocks, bonds (no junk or LT), mutual funds, money market funds, and savings accounts. Prohibited investments include: variable annuities (except NIMCRUTS), short-sales, margin accounts, commodities, precious metals, and hedge funds.
Why an Outside Investment Account?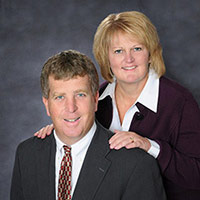 "We chose to create a fund at TFEC in the form of Outside Investment Account in order to keep our existing investment managers, who have known us for nearly 20 years. Our investment managers were excited to support the foundational funds and knew the risk tolerances of the Doner family well. Additionally, since the vision was for the Doner Family Fund to be perpetual, we trusted the investment group to counsel and coach our children on the proper handling of its future." – Michele and Mike Doner
contact us
Tell us how you'd like to make a difference in your community. A TFEC team member will be happy to help!