Early Learning Conference
Who Should Attend
All those serving Cumberland, Dauphin, Franklin, Lebanon, and Perry Counties, and the Dillsburg Area in the following roles:
Early Childhood Providers
Kindergarten Teachers
Childcare Center Directors
Elementary Principals
School District Administration
Superintendents
Family Engagement Specialists
Community Partners
School Counselors or Social Workers
Infant and Toddler Teachers
After School Program Coordinators
Click here to view the Presenter's Guide for our Early Learning Conference 2023, Transition: A Smoother Entry into Kindergarten and Beyond. Please note that registration for this year's conference has closed.

Event Information
REGISTRATION FOR THIS YEAR'S CONFERENCE HAS CLOSED.
| | |
| --- | --- |
| Dates: | Monday, March 20 through Friday, March 24 |
| Location: | Virtual |
| Cost: | $10.00* |
This conference was developed through the work of TFEC's Early Education Initiative, Lancaster-Lebanon IU-13, South Middleton School District, United Way of Carlisle & Cumberland County, and First Start Partnerships for Children and Families.
ALL SESSIONS WILL BE PRERECORDED AND MADE AVAILABLE TO PARTICIPANTS ON MONDAY, MARCH 20, 2023 TO VIEW ANYTIME THROUGH FRIDAY MARCH 24, 2023. EARLY ACCESS WILL BE GRANTED FOR THOSE WHO REGEISTER BY MARCH 10.
ACT 48 and PQAS hours will be offered. New this year, there will not be an additional fee for the ACT 48 credit hours.

*In order to obtain continuing credit hours, you will need the following:
Watch sessions in their entirety.
Complete the survey emailed to you at the end of the conference.
Include your PPID # for ACT 48 hours and your registry ID # for PQAS hours.
PLEASE NOTE: If you are watching sessions together with coworkers, please send an email to Leslie Fick at lfick@tfec.org with the names of the people who viewed the sessions together.
Questions? Call Leslie Fick or Jeanne Predmore, TFEC Early Education Specialists, at 717.236.5040.
Keynote Speakers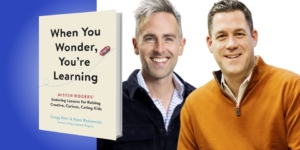 About When You Wonder, You're Learning:
In so many ways, Fred Rogers was a learning scientist who was decades ahead of his time; and his lessons are more important than ever for educators, parents, and caring adults everywhere as they endeavor to support "atmospheres for learning" that our children and youth so desperately need and deserve. Co-authors Gregg Behr and Ryan Rydzewski capture Mister Rogers' "blueprints for learning" in their book, When You Wonder, You're Learning. These blueprints are so much more than nostalgic; they're instructive about remaking learning experiences that meet this very moment right now—in early learning centers, in schools, and in our very own Neighborhoods.
Gregg Behr, executive director of The Grable Foundation, is a father and children's advocate. For more than 15 years, he has helped lead Remake Learning—a network of educators, scientists, artists, and makers he founded in 2007—to international renown. Formed in Rogers' real-life neighborhood of Pittsburgh, Remake Learning has turned heads everywhere from Forbes to the World Economic Forum for its efforts to ignite children's curiosity, encourage creativity, and foster belonging in schools, libraries, museums, and more. A graduate of the University of Notre Dame and Duke University, Gregg holds honorary degrees from Carlow University and Saint Vincent College. He's an advisor to The Brookings Institution and The Fred Rogers Institute, and has been honored by President Obama, the Disruptor Foundation, and AASA as an innovator and thought leader.
Ryan Rydzewski is an award-winning author and speaker. A graduate of the University of Pittsburgh, he taught elementary school in south Louisiana before earning an MFA in nonfiction writing from Chatham University. As a science and education reporter, his magazine stories focus on everything from schools to space travel to Mister Rogers' Neighborhood, and he regularly leads workshops for educators, parents, and neighbors. Born in Erie, Pennsylvania, Ryan lives in Pittsburgh with his wife, Jacqueline, and their son, Russell.
---
Sponsored By