Bring Remake Learning Days to more people and places in 2023
Remake Learning Days of Central PA
hosted by ENGINE of Central PA
will take place this year
April 22 – May 23, 2023
Empowering the Next Generation of Innovators and Entrepreneurs, ENGINE of Central PA, is proud to be partnering with Northeastern, Northwestern, South Central, Southeastern and Southwestern PA for Remake Learning Days across Pennsylvania!
In 2022, Remake Learning Days Across America held 1000+ events in 14 states reaching thousands of parents, caregivers, youth, and educators. In Pennsylvania alone, we held 300+ events, over 50 events of which were in Central PA. #RemakeDays received 26.8 million potential impressions on Twitter alone in just one month, and vast engagement across Facebook, as well.
In order to prepare our kids for a time of unprecedented technological and societal change, we must give families the opportunity to experience creative, hands-on, relevant learning together. Events occurring are hosted by schools, after school time organizations, community centers, science and art centers and museums, and so many more! All events will be published here: https://remakelearningdays.org/find-events/.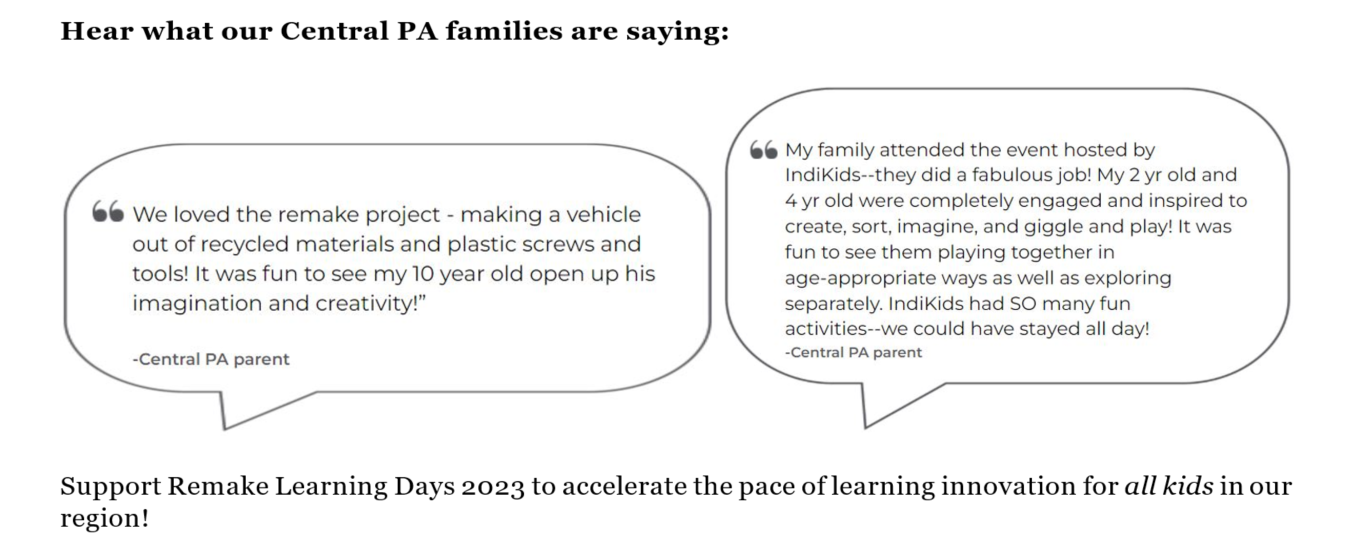 Sponsorship Opportunities
Sponsorship is critical to making Remake Learning Days a region-wide success. Remake Learning Days is a great way for sponsors to connect with families, schools, organizations and national audiences throughout the Central Pennsylvania region. To learn about sponsorship opportunities for Remake Learning Days, please contact Amanda Smith, Executive Director of ENGINE of Central PA, ajs398@psu.edu. We look forward to partnering with you.
You have the opportunity to support Remake Learning Days in one of three ways. Please consider sponsoring Remake Learning Days by April 1, 2020.
Sponsorship Levels and Benefits*
Lead Sponsor
($10,000)

Innovator Sponsor
($5,000)

Good Neighbor Sponsor ($2,500)

Largest and most prominent logo placement on all Remake Learning Days materials (print and digital)
X
Name recognition in Media Releases

X

Name recognition for awarded mini-grants to our hosts
X
X
Logo recognition on school flyers sent to schools/families in advance of Remake Learning Days.
X
X
Name recognition in at least three (3) social media posts across Twitter (#RemakeDays reaches millions of people in the spring)
X
X
X
Logo recognition at the bottom of the Remake Learning Days of Central PA website
X
X
X

Sponsorship Commitment Form