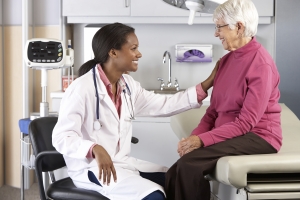 A 2017 Women's Fund Grantee, Hope within Ministries, located in Elizabethtown, offers free primary healthcare services for medically uninsured low income residents of Lancaster, Lebanon, and Dauphin Counties. Funds from the Women's Fund award were specifically used to provide unique and personalized programming for women and girls struggling with chronic health conditions such as diabetes, hypertension and weight issues. These issues are much more prevalent and difficult to control in the female population served by Hope within Ministries due to the grip of poverty these women face. The Hope within Ministries team works with each patient to remove the barriers to medications, testing, medical providers, regular nurse visits, nutritionists, and gift cards to address food insecurity.
President Donita M. Sturgis, MSN, CRNP, who co-founded Hope within Ministries in 2002, says, "the money is being pulled with other resources to allow us to equip the ladies we are serving with tools that they never would have otherwise had."
Hope within Ministries relies on and is immensely grateful for the generous support from both medical and non-medical volunteers. Volunteer opportunities exist for health care providers, reception/front office service, nursing, help with fundraising or community outreach events, and miscellaneous ministry projects and needs. Today the organization's strategic plan includes adding space to the facility to expand their mental health program and add a charitable dental program.
To learn more about the amazing ways Hope within Ministries is impacting the lives of women and girls in our community, visit www.hopewithin.org.