The Mount Gretna School of Art (MGSoA) is a new and innovative type of art program for the region designed to provide intensive art instruction to a talented and motivated group of students in an inspiring setting. MGSoA's vision is to become the pre-eminent school in the Mid-Atlantic offering an intensive summer immersion in landscape painting to a select group of highly talented students from across the USA and beyond.
Recently, MGSoA established an agency fund with TFEC to help with its long-term development goals to strengthen and sustain the Mount Gretna School of Art in its mission to provide a top quality art curriculum that significantly advances the skills and knowledge of talented and motivated students and, concurrently, enhances the cultural and educational programming of the community.
"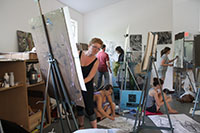 The staff has been responsive and generous with their time in spite of the school's status as a tiny startup nonprofit," comments Jay Noble, Executive Director, MGSoA. "The Foundation for Enhancing Communities' longevity of 90 plus years and its mission to serve many counties across South Central Pennsylvania was a perfect fit to ensure energy and confidence from benefactors. The Mount Gretna School of Art sees the experience and longevity of TFEC as an inspiration to its own long-term development."
An Agency Fund enables a nonprofit organization (agency) to place its own assets with TFEC for permanent endowment purposes. The agency receives an annual income distribution for unrestricted purposes. These funds can be accounted for as assets of the agency (per FASB 136), but are owned by TFEC. The fund can also accept direct contributions from donors, which are accounted for and owned as assets of TFEC.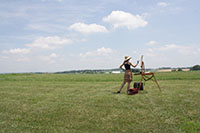 The endowment building process requires time and commitment from an agency and their board. The temptation to spend all received contributions for current operations is strong. Successful endowment-building requires steadfast dedication to the principle of investing for the future. When an agency's endowment fund is established and grown, the benefits of this commitment are apparent. Income earned from the endowment can be reinvested for compound growth or can provide a predictable income stream. Endowment income lessens the pressure to raise current operating dollars and helps to smooth the ups and downs of economic business cycles. Additionally, endowment sends a positive message to donors: the agency has achieved a key measure of financial stability and intends to carry out its mission for generations to come.
An Agency Fund at TFEC can provide the following benefits:
Reputation and Credibility: TFEC has a well-established reputation and considerable name recognition in the five-county region it serves. Potential donors may be more encouraged to give to an Agency Fund when knowing it is being administered by TFEC.
Use of TFEC's Infrastructure: TFEC maintains a sophisticated technological platform that includes specialized single-fund accounting software and a website through which the Agency Fund is listed and donors may make gifts. Additionally, agency fund holders have full access to the expertise of an experienced and knowledgeable finance and development team.
Stability and Responsibility: A fund at TFEC shows donors that your agency is serious about its long-term financial stability. TFEC partners with your agency for the long-term.
Prudent Investment Management: TFEC maintains top-ranking investment performance by maximizing long-term returns and negotiating lower fees. Agency Funds generate a relatively stable income stream due to TFEC's judicious spending policies.
Major and Planned Giving Expertise: TFEC's professional staff is experienced in helping donors achieve their goals through a major or planned gift, with specific expertise in complex transactions and deferred gifts, including gifts made with appreciated securities (including closely-held business stock), tangible personal property, real estate, gifts that provide donors with lifetime incomes (such as Charitable Remainder Unitrusts), and gifts from bequests. TFEC can provide information to donors who wish to learn about and make a planned gift using nontraditional assets and can accompany the agency board members on visits to donors or assist in speaking at meetings, seminars or private donor receptions. TFEC can provide assistance in educating professional advisors to assist their clients with their knowledge of the agency's programs when contemplating estate-planning measures.
Marketing Support: TFEC can assist with efforts to market an Agency Fund by ghostwriting, guest authoring or editing articles for newsletters, brochures, websites and direct mail letters. TFEC can assist with articles about endowment and investments for newsletters, donor education materials, planned giving brochures or other publications as needed. TFEC provides enhanced public relations and exposure as the fund would be listed in our Annual Report and on our website.
Free Access to Counsel: TFEC provides free, expert legal counsel to the agency, its donors, and its attorneys through our retainer relationship with Nauman, Smith, Shissler and Hall, LLP, counsel to TFEC.
Gift Acknowledgement: TFEC ensures the all of the agency's fund donors are promptly and properly acknowledged for their gifts.For more information about Agency Funds, contact Jennifer Doyle, Director of Development & Community Investment, at jdoyle@tfec.org or call 717.236.5040.