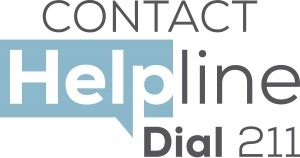 The Camp Hill Community Foundation (CHCF), a regional foundation of The Foundation for Enhancing Communities, was pleased to award $500 to CONTACT Helpline for its "Information and Referral" program, a program which served 2,754 callers from April 2016-December 2016. Through this award, CONTACT Helpline was able to provide Camp Hill residents with a 24-hour listening and health and human service information and referral service hotline that may be reached by dialing 3 easy to remember digits 2-1-1. Callers were provided support for their emotional needs through non-judgmental active listening and were able to learn about community resources to assist with food, clothing or heating needs. Awarded funds were applied to the cost of telephone expenses so that services could continue to be offered at no cost to all consumers.
"We were able to assist more Cumberland County callers than the previous year. Awarded funds covered the telephone costs for those callers, making accessing services easier. The number one reason someone called was for emotional support. The number one basic need request was for rent assistance. It also seemed that the election elevated caller stress levels, as many callers expressed concerns over the election process. Many continue to struggle to make ends meet and were able to find direction for assistance by calling 2-1-1. With the support of the Camp Hill Community Foundation, we were truly able to meet the needs of our community through one call at a time." -Kelly Gollick, Executive Director
About the Camp Hill Community Foundation
The Camp Hill Community Foundation (CHCF) conducts an annual competitive grantmaking program for nonprofit organizations serving Camp Hill (zip code 17011). CHCF's strategic grantmaking focus is to invest in innovative, collaborative approaches and solutions to community problems, and to support projects that demonstrate achievable outcomes, the potential for replication as a model program, and plans for sustainability beyond the grant term. CHCF's overarching goal is to fund programs and services that have the potential for the greatest impact on the quality of life and positive outcomes for individuals and families living in Camp Hill.
Click here for more information on applying to this or any of TFEC's grant opportunities.
The Camp Hill Community Foundation (CHCF) funds come from bequests and gifts given by individuals, families, organizations, and institutions and are held by The Foundation for Enhancing Communities. The CHCF Advisory Committee determines the distribution of the income from the investment of the discretionary funds.