Building Healthy Families Together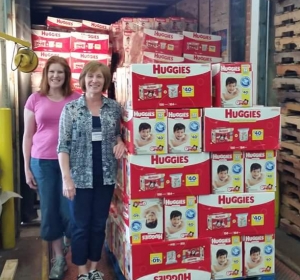 In 2015, the Martin M. Sacks Memorial Fund was pleased to award $500 to Healthy Steps Diaper Bank, a Harrisburg-based non-profit organization that collects, stores and helps distribute free diapers through partner agencies to families in need.  Healthy Steps' mission is to address diaper need by providing a sufficient supply of disposable diapers to keep babies and toddlers, clean, dry and healthy. As the only Diaper Bank in the Greater Harrisburg area, Healthy Steps currently provides over 20,000 diapers per month to area families in need of this critical necessity.  By providing diapers to families in need–federal and state assistance programs do not provide diapers–and teaching proper diapering techniques, Healthy Steps reduces risk of diaper rash, staph infections, urinary tract infections, reduces family stress, and enables parents to place their child in day care if they choose to attend classes or secure employment.  The result is a healthier child, fewer doctor and ER visits and parents that feel confident in providing a basic need for their child.   In 2015-2016 grant funds awarded to Healthy Steps were used to provide forty children from low income families that are eligible for WIC and Food stamps with 2 months of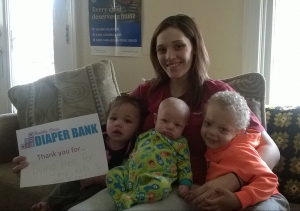 supplemental diapers through a partnership with Greater Harrisburg Head Start.  Susan Speese, Founder and President of Healthy Steps Diaper Bank stated "With grant funds, we were able to expand our services to additional families in Harrisburg.  There were many families in need that were not being served and with help from the Martin M. Sacks Memorial Fund, children are now receiving more diaper changes and their health is positively impacted by this service.  Clean, dry, healthy babies build healthier families—for us, that is success!"
For more information on Healthy Steps Diaper Bank, visit www.healthystepsdiaperbank.com.
About the Martin M. Sacks Memorial Fund
The Martin M. Sacks Memorial Fund was established in 1984 in memory of Martin M. Sacks, a well-known accountant and handball devotee. Mr. Sacks was committed to supporting nonprofit organizations that provide programs and services for the disadvantaged and underserved, particularly youth. Each year, The Martin M. Sacks Memorial Fund invites established 501(c)(3) nonprofit organizations to submit proposals to support youth and family oriented programs and services that are consistent with the mission of your agency. Grants are awarded to eligible nonprofit organizations serving the south central PA counties of Cumberland, Dauphin, or Perry. Click here for more information on this and other grant opportunities available through TFEC.