2014 Grantee of the Whitaker Fund for Math & Science Education
Since 1965, Tri-County OIC Adult Learning Center has provided quality academic, vocational, workforce, and family education classes. They offer programs to help students achieve basic literacy skills, basic workplace foundation skills, or family literacy skills; earn the GED® equivalency diploma; and acquire vocational skills. Tri-County OIC's mission is to deliver high quality, learner-focused education and training services. Through education Tri-County OIC helps students become better workers, better citizens, and better family members.
Tri-County OIC has served over 35,000 adults and thousands of families and children. Through the years OIC has offered classes in adult basic education, GED test preparation, English as a second language, workplace education skills, family, financial and health literacy, nutrition education, commercial driver's license test preparation, nurse aide training, school-to-work, job readiness, medical terminology, forklift certification, basic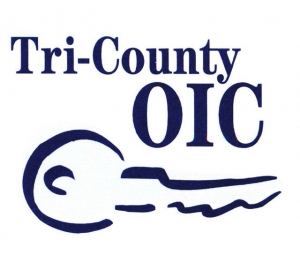 computer literacy, and basic math and reading remediation.
The OIC has also offered extensive summer reading programs and after school programs for over 10 years, including the OIC Homework Helper® after-school project, Show Me How To Play® parent/child interactive learning project, game nights for families, container gardening for kids, and the popular BookyMobile® – free library on wheels. Additionally, OIC has offered after-school science and math clubs for children and adults. OIC works with a consortium of providers to offer quality education that supports family self-sufficiency, transition into higher education, and employability skills.
In 2014, Tri-County OIC received a $13,600 grant from the Whitaker Fund for Math & Science Education for Project Getting Ready for College and Career Readiness Standards. Adult educators are now required to align their course content with the same college and career readiness standards as traditional high school courses; the project is a curriculum and staff development program that is designed to create math and science activities aligned with those new standards. This project also supports communities of learning among adult education professionals to help them better understand the implications of the new standards on their math and science instruction. Consortium partners working on the project with Tri-County OIC include Employment Skills Center, Perry County Literacy Center, Dauphin County prison program, Immigration and Refugee Services of Catholic Charities, and Harrisburg Area Community College.
Getting Ready for College and Career Readiness Standards will produce multiple products including classroom activity modules, lesson plans, and a math and science student/teacher resource guide. By working together to understand the standards and develop materials for instructional use, the project is benefiting all students who attend adult education classes in Dauphin, Cumberland and Perry counties – students who are typically unemployed, underemployed, or lacking a high school diploma receive the education needed to achieve a living wage and a better life for themselves and their families.
For more information on Tri-County OIC, visit www.tricountyoic.org.
About the Whitaker Fund for Math & Science Education
The Whitaker Fund for Math & Science Education conducts an annual competitive grantmaking program for nonprofit organizations serving the counties of Cumberland, Dauphin, and Perry counties. The focus of the Whitaker Fund is to support programs that have the overarching value of improving math and science proficiency and literacy. The Whitaker Fund for Math & Science Education is a fund of The Foundation for Enhancing Communities.
The Whitaker Fund for Math & Science Education grants twice a year with deadlines in May and September. Click here for information on 2015 grantees. Click here for more information on this and other grant opportunities available through TFEC.