Bertha and Byron L. Reppert Scholarship Fund Recipient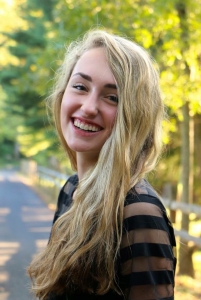 What school are you attending?
I am attending Calvin College in Grand Rapids, Michigan
What is your major/minor?
I am currently undecided, however, I am considering becoming a history major, with a possible minor in psychology.
Why did you choose that major?
I have always loved history! Not only is it interesting, but I feel that it teaches lessons in empathy and understanding that are important in today's society. I believe my interest in psychology also stems from this desire to know and understand other people.
What year in college are you?
I am a freshman.
What is your favorite thing about the school you're attending?
I love how Calvin places the emphasis on learning rather than on results. I find that my teachers are more concerned with my understanding of concepts and my ability to apply them to the world around me than they are with fact memorization. My faith as a Christian is also very important to me, so I appreciate the way my professors integrate faith into learning, making the lessons very applicable to my life and my relationship with God.
What do you like to do in your spare time?
I am on the volleyball team at Calvin, which has been a very exciting and transformative experience! I enjoy spending time with the girls on the team and playing the sport I love.
What are your goals?
I want to take this opportunity for learning very seriously, and thus I hope to do well in my classes! I also hope to build meaningful relationships with the people around me. In everything I do, I wish to glorify God.
What does this scholarship mean to you?
I am so incredibly grateful for this scholarship because it allows me to develop my mind in ways that allow me to think more deeply and better understand the world. Without the assistance of people like those from the donor's family and foundation, I might not have that opportunity. Because of your generosity, I get to learn about meaningful subjects, play the sport I love, make new friendships, and grow in my faith, for which I am extremely thankful.
How do you plan to pay it forward as a recipient of this scholarship?
I hope that I can use what I learn in my years at Calvin for the benefit of others. My goal is to do something with my life that helps people directly. This goal is put in reach for me by the generosity of this scholarship. Every day is a new opportunity to better someone's life, just as others have bettered mine.
About the Bertha and Byron L. Reppert Scholarship Fund
Bertha and Byron L. Reppert moved to Mechanicsburg, PA in 1960. In the years that followed, all four of their children graduated from Mechanicsburg Area Senior High School: Carolynn in 1965, Marjorie in 1968, Nancy in 1971, and Susanna in 1980. Both Mr. and Mrs. Reppert believed in civic participation. For example, Mr. Reppert enlisted as a marine and earned a purple heart during World War II. After moving to Mechanicsburg, they helped to establish the local public library, Mr. Reppert joined the rotary club, and Mrs. Reppert the local garden club. In 1968, Mrs. Reppert, an herbalist, noted author, and lecturer, opened The Rosemary House, an herb and spice shop, located in charming downtown Mechanicsburg. Mr. Reppert a cum laude graduate of Lehigh University and a history buff served on town council for over ten years, six as president, and in 1978 was elected the second mayor of Mechanicsburg. Mr. Reppert's campaign slogan was: Let's Keep Mechanicsburg a Good Place to Live.
The Bertha and Byron L. Reppert Scholarship was established in 2001, in memory of their mother and to honor Byron L. Reppert's then 80th Birthday, by his four daughters and their extended families. The scholarship is to encourage and recognize two graduating seniors (one male and one female) from the Mechanicsburg Area School District who demonstrate good citizenship and actively exhibit an interest in political science, history, horticulture, journalism, or related fields.
Click here to donate directly to the Bertha and Byron L. Reppert Scholarship.
For information on starting your own scholarship fund, contact Allison Moesta, Scholarship & Asset Development Associate at amoesta@tfec.org or 717.236.5040.