Melvin J. and Alice Gayle Reeder Scholarship Fund Recipient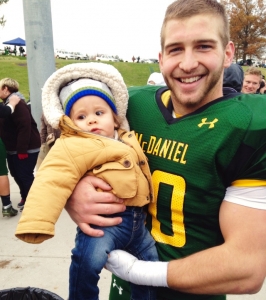 1. What school are you attending? What is your major/minor?
I am currently attending McDaniel College, where I am majoring in Physics. However, next fall I will be enrolled at Messiah College. At Messiah I will be majoring in either, Business Administration or Mechanical Engineering. There are several reasons that I am transferring but mainly because of financial reasons.
2. What year in college are you?
I am finishing up my second semester of my freshman year.
3. What is your favorite thing about the school you're attending?
My favorite thing about McDaniel is the people. It is a small liberal arts school that wants to invest in you. McDaniel college isn't very large but it has a lot of heart and pride. I'm proud to say that I attended this school.
4. What do you like to do in your spare time?
I am a linebacker for the McDaniel Football Green Terror. Spare time is hard to come by but when my time is taken up with lifting and meetings, I enjoy playing card games with my friends and go sledding.
5. What are your goals? (Educational, Career, or Both!)
Educationally, I want to continue to better my writing, math and problem solving skills. In high school I was pretty set on becoming an engineer. That is still a major I am considering but I am also thinking about a possible Business Administration degree. I see my self working with and managing others. I love serving others and working together.
6. What does this scholarship mean to you?
The Reeder Scholarship as been a huge blessing for me. McDaniel College has been a great experience but a very pricey one as well. Without the Reeder Scholarship I would be in that much more debt. More than the money though, it is an honor. The Reeder name is one that carries a lot of weight in Northern High School and I'm grateful to represent that name.
About the Melvin J. and Alice Gayle Reeder Scholarship Fund
Established on February 11, 2005, on the occasion of their 50th wedding anniversary, the Melvin J. and Alice Gayle Reeder Scholarship was created by the Reeder children in memory of their parents to assist graduates of Northern York County Senior High School in Dillisburg, PA. The scholarship honors Melvin and Gayle Reeder, whose eight children all graduated from Northern and who, from 1967 to 1988, had at least one child attending school for 21 consecutive years.