Hannah Bryner and R. Hunter Langel are 2016 recipients of the Lawrence and Julia Z. Hoverter Scholarship Fund. The fund awards scholarships to graduating seniors from Greenwood High School and Newport High School who have shown a commitment to community service and will be entering a service-related field. Click here for more information on TFEC scholarship funds. For information on starting your own scholarship fund, contact Allison Brubaker, Asset Development & Scholarship Officer at abrubaker@tfec.org or 717.236.5040.
Hannah Bryner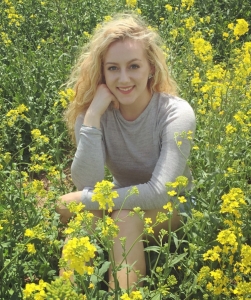 Hannah Bryner is a social work major in her sophomore year at Harrisburg Area Community College. She chose to major in social work because she wants to empower others and give them hope that their circumstances can change. She has always believed that a life lived serving others is the best way to live, which is what lead her to choose her field of study. Hannah is working her way through college, and chose HACC because it allows her to live at home and commute to school just three days a week. She appreciates that her advisor worked with her to create a schedule that allowed her to be both a full-time student and employee. Hannah likes experiencing new places, and then sharing her discoveries with the people she loves the most. She also enjoys watching makeup tutorials for new tips and tricks she can use in one of her part-time jobs as a make-up artist for bridal parties. Hannah hopes to one day start her own scholarship fund. Working multiple jobs while also going to school is a daily challenge, so she would like to pay it forward for other students in a similar situation someday.
"I chose HACC because it was an affordable way for me to begin my college education, and I went into college with the goal of graduating debt free. I work numerous jobs to earn money for school, but having this scholarship has been an immense blessing to me. Receiving this scholarship has helped me stay debt free so far which has only been possible because of this scholarship." –Hannah Bryner
---
R. Hunter Langel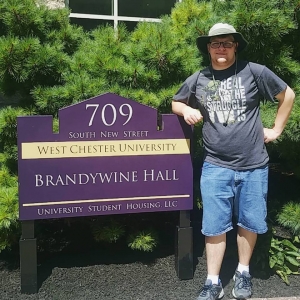 R. Hunter Langel is a sophomore at West Chester University, majoring in Mathematics and Secondary Education. He chose his majors because he has always had a passion for teaching and an affinity for math. Hunter likes the proximity of West Chester University's campus to downtown West Chester, and appreciates the numerous opportunities for involvement on campus, especially the volunteer opportunities. Hunter enjoys listening to Broadway musicals and records, quoting movies with friends, trying new foods, hiking, and making puns. He also volunteers on campus for community service projects and tutors students on and off campus. After graduation, he hopes to work as a high school math teacher, and eventually teach at the collegiate level. He would also like to pursue music opportunities, volunteer, and travel.
"This scholarship has provided me the opportunity to grow academically and personally. As a member of the Honors College at West Chester University, I have become more aware of myself, of my impact on the community, and of other cultures." –R. Hunter Langel