Fund Type: Project
Regional Foundation: Greater Harrisburg Foundation
The charitable purpose of the Project shall be to lessen the burdens of government in combating community deterioration by fostering and facilitating tourism initiatives, which contribute to understanding and cooperation, an improved quality of environment, and the preservation of heritage.  Through these initiatives, helping to bring about a peaceful and sustainable world, advancement of education and the healing wounds of prejudice and discrimination.
---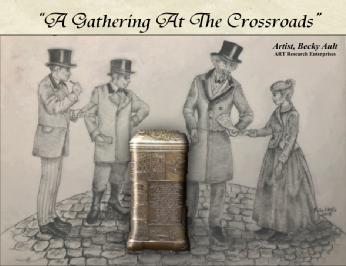 This project, which is designed to commemorate the 150 and 100-year anniversaries of the fifteenth and nineteenth amendments to the U.S. Constitution, respectively, will include educational workshops, performances by living history characters, and scholarly book talks. A special focal point will be commemorating the history and passing of the Old Eighth Ward, once the most ethnically diverse section of the city and the heart of the African-American community. It was demolished by state order in 1911 to begin construction of the Pennsylvania Capital Complex.
---
"A Gathering at the Crossroads" is a benchmark public installation commissioned for the Commonwealth of Pennsylvania by a coalition of over 40 organizations and 200 individuals. The Commonwealth Monument Project has negotiated with PA Department of General Services to place the new work on the Commonwealth Capitol lawn south of the Irvis Building at 4th and Walnut. Designed to be interactive; people can physically enter the monument. Great civic speakers were well known to present spirited addresses before citizens in the center of public squares, houses of worship. They assembled in halls throughout the Old 8th Ward. The orators' pedestal became the symbol of the advocacy for abolition and equal rights.
---
The monument will include the figures of four great abolitionists: Ms. Frances Ellen Watkins Harper, William Howard Day, Jacob Compton and Thomas Morris Chester.  The four figures of the monument exemplify the impact of the period's great orators upon the change makers amongst Harrisburg's African American community.
---
Their allegorical gathering commemorates a point in time documented by the comparison of historic reports in the Harrisburg Newspapers. In May 1870, residents of the Old 8th Ward poured out into the streets in spontaneous jubilation when they learned that the 15th Amendment had become federal law. They had secured the vote for African Americans. Neighborhood residents gathered for a public reading followed by prayers and praises. Thus, the four dynamic civic leaders exemplified by the monument gather around the Orators pedestal which commemorates the legacy of the historic Old 8th Ward. Upon its sides are inscribed the names of 100 legendary leaders of the Old 8th Ward, the names of current pathfnders, change agents and history makers and the emblems of sponsors of the project.
---
Visit their web page to learn more about the Commonwealth Monument Project.