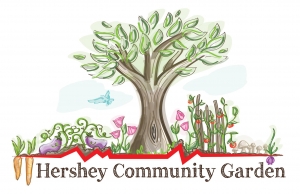 Community Gardens are essential components of a vibrant, healthy, and sustainable community. They are an important recreational amenity that serves all segments of the population. Community gardens are a place for inter-generational sharing and a great place to educate the community about fresh local food production and the wonder of our beautiful natural environment.
For over two years, community members have seen the benefits of The Hershey Community Garden. To date, one acre of the approved two acres for the garden has been developed. Raised beds have been set aside for wheelchair gardeners and those with limited mobility. Designated plots grow food that is donated to the Hershey Food Bank and nearby Farmer's Market for senior citizens, as well as those in need. The "Food is Medicine Project," a program developed by Penn State Health Milton S. Hershey Medical Center, utilizes The Hershey Community Garden to allow doctors to write prescriptions for patients to pick up fresh produce.
The Hershey Community Garden creates general wellness among our community.

Hershey Community Garden Expanding in 2017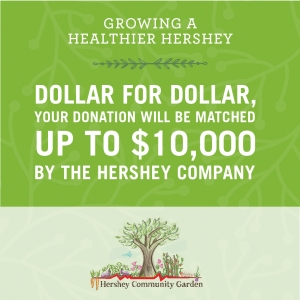 With a waiting list of nearly 100 people, we have heard your desires for more plots. We are going to expand in 2017 and we are asking for your help!
The Hershey Company has agreed to match our efforts to raise funds for the expansion dollar for dollar! We have a goal of raising $10,000, but how do we get there? Simple: 100 donors at $100 each!
Help us
Use the form below to make your donation today! Your past support for The Hershey Community Garden has enabled us to achieve all that we have, won't you share in our joy and excitement in this new endeavor?
Please contact Robert Holquist for general questions regarding The Hershey Community Garden, and Katie Schock with any questions regarding this fundraiser.
Thank you for considering a donation!
---