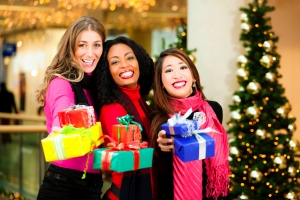 By Robyn Holder, Women's Fund Advisory Committee Member
December 10, 2018

Looking for the perfect gift for someone who has "everything"? Looking to maximize your year-end giving with something truly unique? Looking to support a local organization?
Look no further! The Women's Fund has the perfect idea for you. No muss, no fuss, we have a great solution!
Make a real difference for women and girls, right here in our South-Central PA community, by contributing to the Women's Fund of TFEC. The Women's Fund provides grants to programs and projects that help women and girls develop self-sufficiency, improve their health, or increase their education.
A couple ways donated funds have been used this past year:
Hope within Ministries received used their grant to provide hope for improved chronic disease management for uninsured women, equipping ladies with tools like appointments with a nutritionist, gift cards for local produce stands, and gym memberships.
Lebanon Rescue Mission used their grant to expand their graduate housing program, helping women continue to develop economic sufficiency after their residency at the Agape Family Shelter.
Perry County Literacy Council used their grant to clear pathways to employment for low income women by addressing gaps that create barriers to employment, such as appropriate clothing and grooming products for the interview and the job, gas for travel to the interview and job, and other needs that require prepayment in front of a paycheck.
Help us continue to make a difference for women and girls in our community!
You can make your contribution in several ways:
Sign up your favorite person to join our Dream Team. In their honor or memory, make a gift of $16.66 today, and then every month for five years – it's easy!
Contribute a one-time gift of $1,000 in honor of your favorite person to join our Dream Team.
Provide a donation in any amount to help women and girls in our area – you can honor or remember a strong, supportive woman with your gift, too!
Lastly, think about joining the Dream Team yourself. Who is more special than you?
The Women's Fund has a goal of recruiting 1,000 Dream Team members who donate $1,000 to provide a lasting endowment of $1 million to continue to support women and girls today and well into the future. Gifts are customizable and can be made in payments as little as $16.66 over five years.
Join us today! Make a year-end gift with your dollars that will continue to work for years to come!