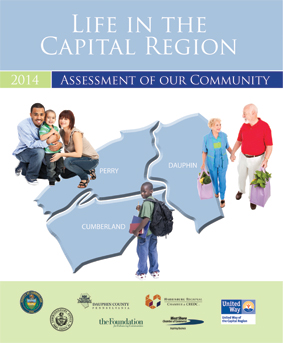 For the last five years, there has been a steady increase in the demand for health and human service programs in the Capital Region. To identify and understand the needs in our community, United Way of the Capital Region formed a partnership with the Harrisburg Regional Chamber, Perry County, West Shore Chamber of Commerce, Cumberland County, Dauphin County and The Foundation for Enhancing Communities. Throughout 2014, this partnership conducted a comprehensive assessment of life in our community, which captured data about trends in health and human service needs, as well as community perceptions about issues facing the Capital Region. The result is a unique and comprehensive look at our community.
View the full 2014 Assessment of Our Community.
View the Executive Summary of the 2014 Assessment of Our Community.