Ali, his wife (who insisted we refer to as our "Khaala", meaning "aunt")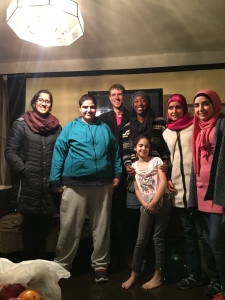 , and their six children were the third family we met during the program. They arrived here in the summer. They were originally from the middle of a town called Homs, where they felt the repercussions of the war and wanted to urgently leave for Jordan. After they arrived in Jordan, they were able to avoid staying in a camp because they had family members living there. They spent one year with their family, after which they moved out to rent their own apartment for the next three years before moving to the U.S. Ali worked as a carpenter in both Syria and Jordan, and his son Ahmed, currently in the 8th grade, also worked as a carpenter in Jordan. Here in the U.S., Ali currently works at a meat company, but unfortunately as a result of beginning his new job, he lost most of his cash assistance and is having issues making ends meet.
While six of their children are now here in the U.S., two of their daughters and their grandchildren still remain in Jordan. Some of their family are currently in prison. They also have family in Lebanon, including Khaala's mother who is currently ill and cannot afford treatment to remove fluid from her lungs. Back home in Syria, the family had to be cautious about any black bag lying about in the street in case it was a bomb. Now that they are here, the children still find themselves nervous going out and about in Harrisburg and don't feel comfortable staying at home without their parents after what they had been through. If possible, they hope to return to Syria one day.