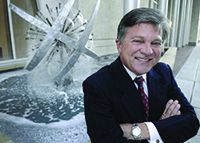 The past year has been a good year for investors in the US as the Dow Jones Index Fund was up by almost 10% for the year and the S&P 500 Index Fund was up more than 13%. The bond market remains strong, as interest rates of all durations remain at historically low levels. The international equity markets and domestic small caps have not fared as well; you can see the net effect in our Fund E results included in this report. In spite of this one year blip in large cap domestic stock prices we have remained in our asset allocation model for the long term return on assets. We continue to have both stock funds that invest in the international market and funds that invest in small cap stocks in our portfolio. The common stock allocation has not deviated from our plan.
With all that considered our disciplined approach to passive investing has served us well. We continue to rebalance as cash becomes available, which has the effect of continuing to "buy low and sell high" as we keep our assets properly diversified. We have maintained our philosophy! During the year, we sold our entire stake in PIMCO in steps as a result of the management turmoil there. We have redeployed those assets into high quality, intermediate term bonds, in keeping with our fixed income strategy.
Have a great day,
Robert J. Dolan, Chair
For more information about TFEC's investment information, please contact Kirk C. Demyan, Chief Financial Officer, at kdemyan@tfec.org or 717.236.5040.