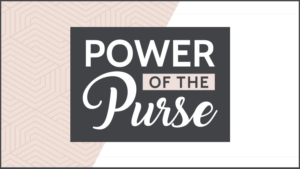 On October 23, 2020, Fund for Women & Girls supporters gathered around their smartphones and computers for this year's VIRTUAL Power of the Purse. Inspired by the value of collective philanthropy, our attendees raised nearly $30,000 to support women and girls in our region. The Power of the Purse (POP) is the largest fundraising event for The Fund for Women & Girls with the purpose of creating a deeper understanding of our collective ability to be philanthropic.
While the pandemic may have changed the ways we see each other, it wasn't going to stop us from having a great time! This year's event was a rousing success! 76 purses were auctioned off, raising funds to help move the mission of The Fund for Women & Girls forward. We honored two women with the Women in Philanthropy and Rising Philanthropist awards and inducted 24 members to the different levels of the Dream Team.
---
At this year's event, Deborah A. Donahue received the Karen F. Snider Women in Philanthropy award, and Renee Custer Yemane received the Rising Philanthropist award. These awards are given to individuals who are outstanding contributors of their time and talent to benefit the lives of women and girls in our area. The 2019 Karen Snider Women in Philanthropy honorees joined the ranks of 19 other award recipients. The Rising Philanthropists Award for young women aged 21-35, made its second award at this year's Power of the Purse.
Click here for more information on this year's honorees.
---
If you missed the chance to give to the Fund for Women & Girls and this year's Power of the Purse, you can do so HERE. Your generous gift will ensure that women and girls in our region are afforded the right to live in safety, meet their basic needs for living, have the opportunities to pursue their dreams, and are inspired to experience the value of philanthropy.