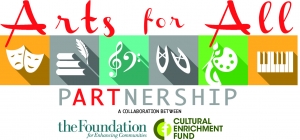 The Cultural Enrichment Fund (CEF) and The Foundation for Enhancing Communities (TFEC) are pleased to announce 20 grant awards totaling $57,190 to support local nonprofit organizations that support and provide arts and cultural programming in the capital region.
"We're thrilled to be a part of a wonderful partnership that furthers arts and cultural programs in our region," said TFEC President and CEO Janice R. Black. "The organizations that received these grants offer a great deal of value and work to ensure that all individuals, especially those that are underserved, have an opportunity to enjoy and engage in creative and cultural programming."
The "Arts for All" Partnership grants increase access to the arts in the capital region by funding free public performances for families, ticket subsidy programs that fill houses, innovative programs that engage and build young audiences and educational outreach programs. Funding priority is given to programs that increase arts engagement and access among diverse audiences, underserved and/or economically disadvantaged communities.
"This partnership is an expansion of the CEF's "Arts for All" Initiative and has allowed us to further our reach and provide even more opportunities to families and individuals that may not have had access to the arts before," Executive Director of the Cultural Enrichment Fund Chad Barger stated. "The programs and organizations that have been awarded funds represent smart investments that will provide our community with vibrant and diverse art and cultural programs for everyone to enjoy."
The CEF is the capital region's united arts fund. Its mission is to advance and sustain a vibrant and diverse arts and cultural life in the Capital Region. To learn more about the Cultural Enrichment Fund please visit culturalenrichmentfund.org.
TFEC is a community foundation which aims to stimulate philanthropy and enhance the quality of life in the community through accumulating, managing, and disbursing financial assets while serving as a catalyst and neutral convener to meet a wide range of community needs in south central Pennsylvania. For more information on TFEC, please visit www.tfec.org.
---
The following is a list of grant recipients, the amount of funding and a brief description of the projects.
• Arts Alliance of Greater Waynesboro – $3,500 for the Destination ARTS! Performing Arts Fund that provides cultural opportunities to the local community and creates sustainable income streams for local artists and businesses through a variety of free, public performances every week in downtown Waynesboro.
• Capital Region Arts and Education (Capital Area School for the Arts Charter School – CASA) – $2,500 for the Guest Artist Program that will fund classes and presentations by guest artists for six art disciplines presented by nationally recognized artists.
• Carlisle Arts Learning Center – $5,000 for the ArtWORKS! Program, CALC conducts a series of after school art classes and workshops, in a variety of mediums. In the classes, at risk children and teens from Hope Station and from recommendations from area school guidance counselors create artwork that gives back to the community.
• Central Pennsylvania Youth Ballet – $4,000 for the Teen Night at the Ballet, a collaboration between CPYB and Jump Street to create a two part program that seeks to engage young and diverse audiences by giving teenagers the opportunity to participate in a free in-studio social and teen only performance followed by a question and answer session.
• Diocese of Harrisburg- Saint Theresa School – $2,000 to partially fund the Piano Lab and Multimedia Center creation to be utilized by over 300 students that attend the Saint Theresa School.
• Gamut Theatre Group – $4,000 for the Gamut Theatre Group's 23rd Annual Free Shakespeare in the Park at the Levitt Pavilion for the Performing Arts in Harrisburg's Reservoir Park, serving the individuals, families, and students who attend this event..
• Gretna Theatre – $2,500 for Outreach 2015 that will fund extensions and enhancements to their Theatre for Young Audiences and educational outreach programs, including transportation to allow more children to attend productions and the hiring of interns.
• Harrisburg Gay Men's Chorus – $1,500 to partially fund the production costs for the 29th Anniversary Concert, Chaps in Chaps, a Retrospective in American Country Music on May 14 and 15, 2016 at the Black Box Theatre on the Penn State Harrisburg Campus.
• Harrisburg Public Schools Foundation – $4,000 for the "Arts and Music Mini Grants for Teachers" that will provide eight arts and music mini-grants of $500 for the district's nine schools for arts equipment, outside presenters and other arts-related in school programming.
• The Harrisburg Symphony Orchestra – $2,500 for the Musical Chairs Program, a subsidized ticket program that was created to grow the Harrisburg Symphony Orchestra's audience by introducing children (kindergarten to 12th grade) to live orchestral music.
• The Hershey Symphony Orchestra – $2,000 for the Salute to America Concert, its annual July 4th Star Spangled Spectacular on the lawn at the Hershey Medical Center that is also broadcast inside the hospital in patient rooms. Funding from the Arts for All Partnership will help the Hershey Symphony Orchestra to continue this tradition.
• Opera Lancaster – $4,000 for Marina, a Zarzuela in Concert, the production of the Spanish Opera "Marina" by Emilio Arrieta at Whitaker Center for Science and the Arts. This "zarzuela" will be presented in its original language – Spanish – and in a concert format. Special outreach and ticket subsides will be offered to the Latino community for this production.
• Lebanon Valley Council on the Arts – $3,000 for the Art Resource Studio, a program developed for children, youth, and families facing health/mental challenges to come together and work on art projects in a community setting.
• Market Square Concerts – $3,000 for the Soundscape Educational Outreach Program that provides admission incentive for kindergarten to 12th grade students, their accompanying adult and college students to attend concerts; educational outreach programs for schools; community outreach programs targeting young children; young artists performances program; and pre-concert talks.
• Mount Gretna School of Art – $1,000 for the Free Artist Lecture Series hosted by the Pennsylvania Chautauqua in their historic Hall of Philosophy in Mount Gretna that consists of 6 lectures given by the school's own visiting faculty and critics, who change each summer.
• Open Stage of Harrisburg – $4,000 for the Harrisburg School District OSHKids scholarship program which brings Harrisburg School District students ages 8-17 to participate in its classes in acting and music theatre at its studio / school.
• Perry County Council of the Arts – $3,560 for the Perry County Mosaic Project which will bring artist Linda Billet in to mentor eight to twelve adults afflicted with mental illness as they create a glass mosaic designed to be placed outdoors in a public space in Perry County.
• St. Stephen's Episcopal Church of Harrisburg – $1,500 for the third season of the Music By the River to be held in the nave of St. Stephen's Episcopal Cathedral.
• Vision Resources of Central Pennsylvania – $2,630 for the Visiting Artist Program which provides arts experiences for visually impaired residents of the capital region. This funding will expand the program to not only include the music from Harrisburg Symphony Orchestra members, but also new cultural experiences.
• World Affairs Council of Harrisburg – $1,000 for the International Poetry and Storytelling Festival, an annual event to celebrate poets and storytellers of diverse cultures, backgrounds and ethnic groups to encourage young writers to explore their talents.