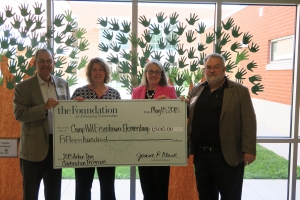 The Camp Hill Community Foundation (CHCF), a regional foundation of The Foundation for Enhancing Communities (TFEC), recently presented a check for $1,500 to Camp Hill Eisenhower Elementary, a 2015 CHCF grantee, for the 2015 Arbor Day Celebration Program. The program, which is designed to involve every one of the 300+ students enrolled at Eisenhower Elementary, instills in the students an appreciation for trees in the natural environment and teaches the many benefits that trees provide to all living things.
The Camp Hill School District (CHSD) is a public school district located in Camp Hill, PA a town with a population of 8,000. CHSD has one lower elementary school (Hoover Elementary K-2); one upper elementary (Eisenhower Elementary grades 3-5); one middle school (grades 6-8); and one high school (grades 9-12). The program for which funding was received is centered in Eisenhower Elementary, which was recently named a Title I Distinguished School in Pennsylvania.
Please visit www.camphillsd.k12.pa.us for more information about Camp Hill School District & Eisenhower Elementary.
Please visit www.tfec.org/chcf for more information about the Camp Hill Community Foundation.
Picture individuals: Left to right: Mr. Dennis Lebo, CHCF Advisory Committee Member, Dr. Sandra Fauser, Principal, Eisenhower Elementary, Ms. Christel L. Ertel Stewart, Program Coordinator, Mr. Richard N. Woodard, CHCF Advisory Committee Member