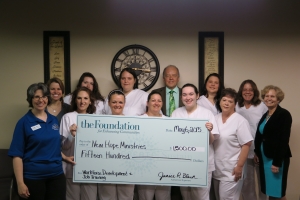 The Camp Hill Community Foundation (CHCF), a regional foundation of The Foundation for Enhancing Communities (TFEC), recently presented a check for $1,500 to New Hope Ministries, a 2015 CHCF grantee, for Workforce Development & Job Training. The project serves low-income individuals residing in Camp Hill who are specifically looking to obtain job training and educational assistance.
For about $100, New Hope can provide one person with one day of Forklift Training Certification class and the potential to earn $14 to $15 an hour with benefits. For $400, they can teach one student the 16-week curriculum to pass the GED exam. For $1,000, New Hope can offer six weeks of hands-on classroom and clinical training to someone who wants to become a Certified Nurse's Aide and earn between $12 and $15 an hour with benefits. In all programs, the likelihood of a better paying job with benefits becomes a reality for those who complete these various workforce development and job training programs.
New Hope Ministries, Inc. is the primary non-governmental organization providing basic needs assistance through their centers in the Mechanicsburg/West Shore area and parts of York County. Service is provided to eligible individuals regardless of age, gender, or religious affiliation. Through New Hope's crisis assistance program, New Hope provides food for the hungry, help with transportation so clients can obtain and maintain a job, information and referral to other assistance programs, assistance to the uninsured for medical care and prescriptions, financial assistance for heat and utilities, and rent or mortgage assistance to avoid eviction and foreclosure. In addition to helping people in crisis situations, New Hope mentors and teaches children and youth through an after school program in various locations throughout their service area. In 2009, New Hope Ministries became the first Prosperity Center facilitated by the United Way of the Capital Region, which offers financial literacy, employment assistance, and workforce development programs.
Please click here for more information about the Camp Hill Community Foundation.
Please click here for more information about New Hope Ministries.
Posing with graduating students from the most recent Nurse's Aide Program are:
Front, Far left: Molly Helmstetter, Director of Development, New Hope Ministries
Second from Left: Celeste Stimpson, Mobile and Stability Program Manager, New Hope Ministries
Back, Middle: Joe Kloza, Nurse Aide Program Manager/Instructor
Front, Far Right: Barbara R. McLemore, CHCF Advisory Committee Member