Pennsylvania Humanities Council and the Orton Family Foundation present An Introduction to Community Heart & Soul™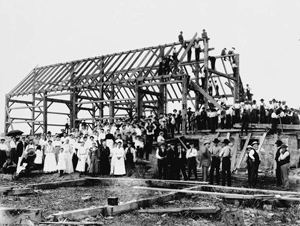 The Pennsylvania Humanities Council and the Orton Family Foundation have partnered to bring you a day-long workshop on Community Heart & Soul™, a resident-driven approach to community planning and development. The goal is to increase participation in local decision-making, helping residents shape the future of their towns. Together with the tools of the humanities, Heart & Soul is designed to help residents steer change based on what matters most to them. In communities that have used the Heart & Soul method, it has been a catalyst for change sparking downtown revitalization and local arts initiatives and informing transformative economic development and comprehensive plans. Community Heart & Soul reconnects people with what matters most about their town and translates those personal and emotional connections into a blueprint for economic and community decisions. Click here to learn more about Community Heart and Soul™.
This workshop is ideal for groups and organizations involved in community development activities that are interested in exploring their community's unique history, character and values. During the day-long workshop, participants will:
Learn about Community Heart & Soul from two community engagement experts and a past Heart and Soul grantee
Explore the short-term challenges and long-term benefits of the method
Examine their community's readiness to bring Heart & Soul to their town
Discover ways to use the humanities to tell the story of their town
Identify next steps that they can take toward strengthening their community's social networks
Learn more about a special opportunity to apply for PHC's civic engagement grant
Workshops will be offered on May 11 at the North Penn Community Health Foundation in Colmar, PA; May 13 at the Civic Club of Harrisburg in downtown Harrisburg; and May 15 at St. Vincent's College in Latrobe, PA.
Registration Information
Interested individuals are encouraged to bring a team of collaborators with them. Seating is limited and on a first-come, first-served basis. Registration closes on April 30.