Featured Dream Team Member: Todd Snovel
"…looking over the current list of Dream Team members, I saw so many mentors and fellow community-minded people and I wanted to join their ranks!"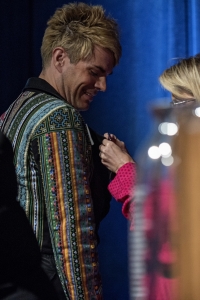 Following the motto Dream Create Sustain Inspire, the Fund for Women & Girls established the Dream Team in 2011 with the goal of encouraging 1,000 individuals to each make a gift of $1,000 to create a lasting $1 million endowment to support women and girls now and into the future. Since 2008, the Fund has been able to give $137,714 in grants to local nonprofit organizations and has grown to include more than 200 women and men, including the Dream Team pledges.
This year, the Fund for Women & Girls Advisory Committee welcomed Todd Snovel, a male Dream Team member. When asked what inspired him to join the Fund for Women & Girls, Todd Snovel shared his reasons, "one was hearing the impact that the fund was having on its grantees – the amazing projects that our partner organizations were facilitating were enriching the lives of the women in our community. The other was looking over the current list of Dream Team members. I saw so many mentors and fellow community-minded people and I wanted to join their ranks!" Todd was invited to his first Fund for Women & Girls event by one of his former colleagues and favorite people, Jessica Ritchie, who was on the Advisory Committee at the time.
Inducted to the Dream Team in 2016, Todd serves the community as the Assistant Dean for Engagement and Inclusion at Lebanon Valley College (LVC). As a strong advocate for equality, in 2014, Todd was the first male to receive the Lebanon Valley Chamber of Commerce's Athena Award to which he attributed his success to the influence of supportive women around him. Inspired by his grandmother, the epitome of class and sophistication, Todd recalls Lael Snovel as "the kindest person I have ever met, and showed love and respect equally to everyone, regardless of any levels of difference. She also was incredibly civically-engaged and philanthropic." Todd was also inspired by his mentor Rosemary Yuhas, Dean of Student Emerita of Lebanon Valley College. "She was an incredible source of inspiration, as she would show genuine care, compassion, and respect to every student she counseled. A former coach, she always believed in finding the potential in every person." Todd was recently recognized by We Are Lebanon, PA as an activist, educator and dreamer. "My passions are around health care, education, and the arts, and access to all of these vital services," Todd shared. "When there is equitable and accessible access to things like education, comprehensive healthcare, and arts, it positively affects quality of life for all!"
A member of the Fund for Women & Girls Advisory Committee and the grantmaking committee, Todd encourages dialogue about gender and equality and teaches courses and workshops on diversity, inclusion, and gender issues. These are not conversations solely for women but a responsibility of the whole community. "I realize that it may not be often that a man-identifying person has served on a fund dedicated to furthering the efforts of women, but I'm very proud to live one of my passions and serve in this capacity." In addition to community involvement with the arts and education, Todd is a member of the Lebanon County Commission for Women and serves on the Women in Business Committee.
Become a Dream Team Member
$16.66 – Dream It. Charge It. Change It!
For $16.66 a month, you can give the gift of hope to women and girls in the South Central Pennsylvania counties of Cumberland, Dauphin, Franklin, Lebanon, and Perry, and the Dillsburg Area. Make your pledge today of $1,000 or $16.66 per month for 5 years to become a member of the Dream Team.
To start your Dream Team pledge, please contact Jennifer Doyle, Vice President of Philanthropy & Community Investment, at jdoyle@tfec.org or 717.236.5040, or complete the Dream Team Pledge Form.