Zachary Moore Music Memorial Fund Scholarship Recipient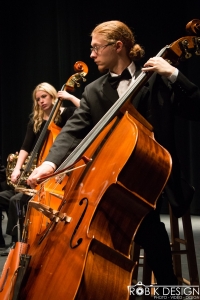 What school are you attending?
West Chester University
What is your major/minor?
Music Education: String Bass; Music Theory & Composition; Jazz Studies minor
Why did you choose that major?
Since middle school, I have always loved music and its impact that it made in both my life and the lives of others. This positive impact that it has made in my life has made me want to be able to teach music to students, and pass on the wonderful tradition.
What year in college are you?
Sophomore
What is your favorite thing about the school you're attending?
My favorite aspect of West Chester is the local student community. In the music building, pretty much everyone at least knows of each other, and there are always resources available to assist with specific issues.
What do you like to do in your spare time?
In my spare time I like to just take a deep breath and relax. Many students do not allow themselves enough time to themselves for deep reflection. Just being alone with your thoughts can help to keep yourself organized, improve your self-esteem, and help your academic career.
What are your goals?
My goals consist of always improving my personal musicianship. This includes expanding my repertoire of both solo and orchestra pieces on the string bass, exploring new and developing areas of music, and working to compose engaging musical works for a variety of ensembles.
What does this scholarship mean to you?
This scholarship literally meant that I could take more classes here at the university. I had to schedule extra courses into one semester due to my double major, and this scholarship allowed me the funding to afford it.
How do you plan to pay it forward as a recipient of this scholarship?
This scholarship has helped me to expand my collegiate career. Therefore, I plan to always support music education, especially promoting the study of music in higher education. Without the support from teachers, parents, and others, there will be no one in the future to receive scholarships such as this one, which means no one to further humankind's investment into the arts.
About the Zachary Moore Music Memorial Fund Scholarship
The Zachary Moore Music Memorial Fund offers scholarships to graduates of Susquehanna Township High School, Harrisburg High School, Sci-Tech High School, Capital Area School for the Arts (CASA), Steelton-Highspire High School, Central Dauphin or Central Dauphin East High School pursuing higher education at a two- or four-year college or university or creative arts/music school for the study of music. The fund is intended to support music development as it was envisioned by Zachary Moore, who dreamed of pursuing a non-traditional, innovative, and creative approach to bring forth music and help release the music he heard in his mind, body, and soul.
Click here to donate directly to the Zachary Moore Music Memorial Fund.
For information on starting your own scholarship fund, contact Allison Brubaker, Asset Development & Scholarship Officer at abrubaker@tfec.org or 717.236.5040.