The Foundation for Enhancing Communities (TFEC) is pleased to announce the new framework for the annual grantmaking that is conducted through the Greater Harrisburg Foundation (GHF), one of six regional foundations for TFEC.
For over one year, the TFEC Staff and GHF Grantmaking Committee, with support from the TFEC Board of Directors, have worked diligently with the help of consultants Nancy Burd and Kim Glassman of The Burd Group, to plan a more impactful grantmaking program for community nonprofits throughout the central PA counties of Cumberland, Dauphin, Franklin, Lebanon, Perry, and the Dillsburg Area of Northern York County. The overarching goal for this grant framework revision is to enhance our grantmaking program in order to provide the greatest impact within our five county region as a whole.
TFEC is pleased to announce three new grant types:
Arts for All Partnership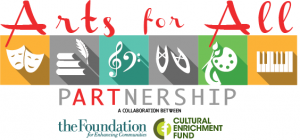 Announced in April 2015, this new and exciting funding partnership formed with the Cultural Enrichment Fund aims to increase access to the arts in the Capital Region through free public performances for families, ticket subsidy programs that fill houses, innovative programs that engage and build young audiences, and educational outreach programs. Priority will be given to programs that increase arts engagement and access among diverse audiences, underserved and/or economically disadvantaged communities.
Grants up to $5,000 will be made annually in July to organizations serving Cumberland, Dauphin, Franklin, Lebanon, Perry, and the Dillsburg Area of Northern York County or located within 20 miles of center city Harrisburg.
"Our Challenge for Giving" – TFEC Challenge Grant Initiative
TFEC's mission is to stimulate and promote local philanthropy to enhance the quality of life in the community. Our goal is to inspire nonprofits that are aligned with TFEC's priorities to increase their capacity to attract new donors to their mission. TFEC cannot support the needs of our community alone; all of us need to commit to making this region a vital and healthy community. To advance this work, TFEC has established Our Challenge for Giving, a challenge grant initiative for the local nonprofit community.
Our Challenge for Giving is TFEC's commitment to award up to $7,500 to increase the number of new private donors, lapsed donors and/or current donors. Challenge Grants can be a powerful incentive to diversify and increase the number of donors who support your organization.
Challenge Grants up to $7,500 will be made annually in the fall to organizations serving Cumberland, Dauphin, Franklin, Lebanon, Perry, and the Dillsburg Area of Northern York County. Grants may also be made to organizations serving Mifflin and Juniata counties from the Ben Franklin Fund, which benefits organizations in Juniata & Mifflin counties in addition to our five-county service area. The inaugural RFP is scheduled for release September 1, 2015.
TFEC's Early Childhood Education Strategic Initiative
TFEC strives to make meaningful impact in our community by choosing a specific focus area to invest a larger portion of our dollars.
The mission of the new TFEC Strategic Grantmaking Initiative is to focus on Kindergarten readiness for children ages 3-5 who are not in pre-school settings and may, for multiple reasons, have barriers to accessing those services. We will accomplish this primarily by investing in programs that help parents become empowered as their children's first teacher and prepare their children for Kindergarten. Parent education serves and strengthens the "whole" family especially those families that are at risk due to poverty, limited education and access to affordable pre-school programs.
TFEC will begin this initiative in two phases:
• Phase I: The first phase – coming this fall – will identify and assess the needs of families in at least two to three communities who are not utilizing preschool programs, as well as to investigate potential programs that can be resourced. An important component of this phase will be to invest in community agencies that have already established relationships with families who have preschool aged children but who are not enrolled in preschool programs.
• Phase II: The second phase will pilot the program(s) identified for implementation. The long-term goal will be to expand the initiative to more locations in TFEC's funding area once the pilot research and programming is implemented.
Grants up to $20,000 will be made annually. The RFP will be issued to organizations meeting the goals of the strategic initiative; the RFP for Phase 1 is scheduled to be issued September 15, 2015.
More Information:
This announcement only affects the GHF grantmaking program. All other regional foundations and other granting funds will continue making their grants as usual.
We invite you to review TFEC's grantmaking opportunities available throughout the year. Funding opportunities, their deadlines, service areas, and funding priorities can be viewed on our website.
Grant guidelines are available online approximately 8 weeks prior to the deadlines posted. Questions about any of the grantmaking opportunities or how to apply can be directed to Jennifer Kuntch, Program Officer for Community Investment at 717-236-5040 or jkuntch@tfec.org.