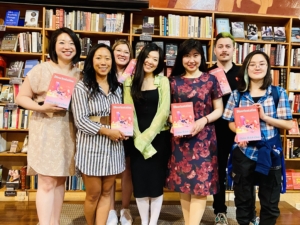 The Harrisburg Asian American Pacific Islander (HAAPI) Community will be hosting the 2nd Annual AAPI Heritage Month Celebration in May. HAAPI is a project of The Foundation for Enhancing Communities (TFEC). 
Join HAAPI in celebrating and recognizing the contributions of Asian American and Pacific Islanders to the history, culture, beauty, and achievements of the Greater Harrisburg Area and the United States.  
Learn more at https://linktr.ee/aapihbg and AAPI Heritage Month Celebration 2023.
How did HAAPI start?
Ellen Min, cofounder of HAAPI, recalls moving from Philadelphia to Central Pennsylvania and feeling alone. In Philadelphia, she had strong ties to the Asian American community but in her new home of Central PA, those ties were strained.  
In larger cities like Philadelphia, Washington DC, and New York, AAPI Heritage Month is celebrated with many events at museums, festivals, and universities – something Min did not see in our local community. Motivated by her need to reconnect to her community and catalyzed by the targeted killings of eight people, including six Asian women, in Atlanta in 2021, HAAPI was born. 
"I created a community that I needed and wanted for myself and for our family," said Min. "The Asian American population is the fastest growing population not only in Pennsylvania but in our country. It is important for people to understand that we are a part of the fabric and history of this country." 
How is HAAPI Celebrating Heritage Month?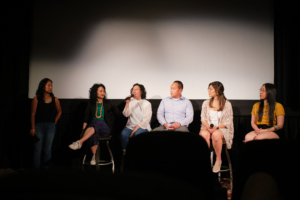 Now HAAPI has almost 100 members and is looking to create more visibility for the AAPI community. To celebrate AAPI Heritage Month, HAAPI is dedicating the month of May to intentionally create visibility by hosting events such as: 
An Evening with Wajahat Ali on Friday, May 19

th

from 7:00-8:00 PM at the Midtown Scholar Bookstore (FREE)

 

Screening of "Everything Everywhere All At Once" on Friday, May 19

th

from 9:30-11:30 pm at the Midtown Cinema (FREE)

 

Documentary screening of "Feeling Asian American" on Saturday, May 20

th

from 3:00-4:00 pm at the Midtown Cinema (FREE)

 

HAAPI Stories on Saturday, May 20

th

from 5:30-8:00 pm at Crawdaddy's Restaurant ($20/person)

 
While discussing HAAPI's events, Min highlighted the documentary screening of "Feeling Asian American," which explores the emotional journeys of five individuals who navigated their way through their own racial reckonings in the face of the COVID-19 pandemic. She said the 25-minute documentary will help people understand the Asian American experience. In addition, HAAPI Stories will highlight great people right here in Harrisburg. 
"We intentionally chose people to highlight diverse stories of being Asian American," said Min. "These are people who are brave, courageous, and willing to put their stories out there for people to engage and interact with." 
In addition to attending HAAPI events, Min suggests celebrating AAPI Heritage Month by reading AAPI books or articles, listening to AAPI stories, and supporting local AAPI creators and businesses. 
How does TFEC play a part?
Through the fiscal sponsorship program with TFEC, community projects such as HAAPI have invaluably touched the residents of Central Pennsylvania. Their projects have provided awareness and support on a variety of community issues. 
"TFEC, as our fiscal sponsor, is instrumental in our success and sustainability. Without being a Project of TFEC, HAAPI would not be able to fulfill its mission: to provide a safe space of connection, belonging, and joy for AAPI persons in the Harrisburg region and combat anti-Asian hate through community and visibility," said Min. "With the support of TFEC and its incredible team members, we are able to have the support, guidance, and infrastructure needed to put our membership and leadership's time into our mission. Also, I have been so incredibly touched and amazed at how our project has been welcomed with open arms. Every team member I've worked with has given so much dignity, respect, and value to the work we do and hope to accomplish. I am truly grateful." 
Interested in starting your own project for a cause you care about? TFEC has the ability to extend its nonprofit status over your activities using a tool known as a fiscal sponsorship. Your project can become part of TFEC so that you can operate as a 501(c)(3) organization, raise tax-deductible contributions, and use those funds to achieve your mission. If you establish a project with TFEC, we become your fiscal sponsor and you become part of TFEC. 
This arrangement allows you to:

Access the reputation, credibility, and fiscal acumen of TFEC

Fundraise to support your charitable mission

Give your donors tax-deductibility for their gifts

Create good records of fiscal activity

TFEC has expertise in managing a wide range of charitable projects, from community health initiatives, to corporate and foundation grantmaking programs, to urban beautification initiatives.

 
Visit Projects Overview – The Foundation For Enhancing Communities (tfec.org) to learn more.