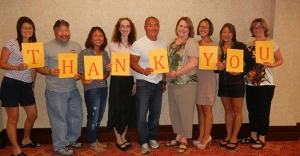 There are times when not becoming a new 501(c)(3) is the best option for achieving your mission. Through a unique service offered by The Foundation for Enhancing Communities (TFEC), called a "fiscal sponsorship" there is a clean and easy way to achieve a charitable goal without the hassle of the paperwork.
Why would you be interested in a fiscal sponsorship (project)?
If you have a charitable purpose that you would like to achieve, or a capital campaign to run without hiring any new staff, a fiscal sponsorship might be a great tool for you. So, if you have considered setting up a nonprofit organization, please contact Deb Fulham-Winston at dwinston@tfec.org before taking another step. TFEC can offer you a simpler, less expensive method to achieve your charitable goals.
As of April 2015, TFEC is providing fiscal sponsorship services for 68 groups and organizations across South Central PA. There are golf tournaments, fun runs, a bike ride, a suicide prevention effort, a community garden, groups organizing events to support breast cancer research, two statewide organizations, and many more. For a complete list of our current projects, please visit www.tfec.org/projects.
How does a fiscal sponsorship work?
After you determine how you want to achieve your charitable goals, we can discuss your ideas and refine them to ensure your ideas qualify for fiscal sponsorship. Once all details are finalized, TFEC creates a mutually acceptable Project Agreement, which is then signed by the primary contact individuals from your group and TFEC's President and CEO, Janice R. Black. You can then begin to operate as a nonprofit organization under TFEC's 501(c)(3) determination. After the Project Agreement is signed, TFEC provides the following services for a modest annual administrative fee (the current minimum fee for 12 months of services is $1,500). However, project fees differ based on the volume of work needing to be performed by TFEC staff persons.
TFEC can:
Accept all donations, including cash, checks, credit cards, publicly-traded and closely-held securities, real estate, insurance policies, and other non-traditional assets
Acknowledge all gifts to donors and providing a tax deduction letter
Process all vendor payments
Create statement of general ledger activity which lists donor contributions and vendor payments issued
Promote your project on TFEC's website and provide the ability for donors to give online
Provide the ability for the project to apply for grants from foundations and corporations
Process all grants and scholarships made by the project (if applicable)
Provide technical assistance if applying for a grant from TFEC
Provide the ability to accept and process multi-year pledges (additional fee)
Through TFEC staff, provide access to legal counsel for complex gifts or other legal questions
Provide your project with the ability to hire an Independent Contractor with the professional skills necessary for the success of your project.
How Do I Get Started?
If you have identified a need affecting you, your family, your neighbors or your community, sit down and start planning exactly what it is you want to accomplish and how you think you might accomplish your goals. Developing a basic budget is also a good task to help focus on the specific operational aspects of your project.
Once you have your initial plan it place, contact Deb Fulham-Winston at dwinston@tfec.org or 717.236.5040 to review your plans and determine whether a fiscal sponsorship is right for you and your charitable goals.