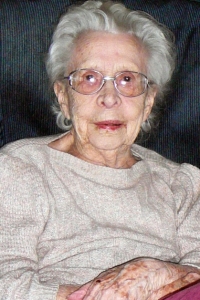 A scholarship opportunity for students who are residents of the greater Newport area is now available. Preference will be given to students who are members of St. Paul's Lutheran Church in Newport, Pennsylvania, who have been active in the church for a minimum of 3 years. Students must be entering their second, third, or fourth year in college, and have a minimum GPA of 2.5. Applicants must be able to demonstrate community involvement and have financial need. Pauline Whitekettle chose to establish her scholarship fund at the Perry County Community Foundation, a regional foundation of The Foundation for Enhancing Communities, due to her family roots in Perry County.
Pauline was a lifelong resident of Newport having died in the house in which she was born. She had a very special attachment to her church, St. Paul's Lutheran Church of Newport, PA and of course the children of the church. She taught the second grade for 40 years in the Newport Schools. During her life-time she traveled the world! In retirement, when not traveling, she never missed Friday lunch and Saturday breakfast at Bitting's, the well-known local restaurant, where she would routinely see her former students, their children and their grandchildren, all of which were her students.
For more information about this scholarship fund, please visit www.tfec.org.