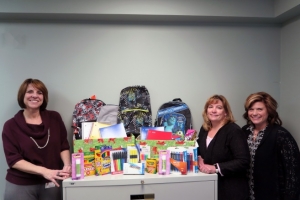 In support of Capital Beginnings, a school readiness initiative of The Foundation for Enhancing Communities, PinnacleHealth's Auxiliary donated six boxes of school supplies on Tuesday, March 23. Items donated include: markers, notebooks, backpacks, pencils, pens, glue sticks, pen sharpeners, and pencil boxes. These items will benefit many young children whom Capital Beginnings serves in Dauphin County.
A catalyst for education equity in the Capital Region, Capital Beginnings provides school readiness, assessment and educational engagement programs for underserved children and their families, including those who are on waiting lists for Head Start, families in shelters and using food pantries, stay-at-home families, and families where one or both parents are incarcerated. The initiative continues to promote early literacy and school readiness in the region with the support of key partnerships. For more information on Capital Beginnings, please visit www.tfec.org.
Pictured Left to Right: Stefani McAuliffe, Manager of Community Initiatives, PinnacleHealth; Jeanne Predmore, Program Director of Capital Beginnings, TFEC; Leslie Fick, Program Manager, Parents & Partners, TFEC.