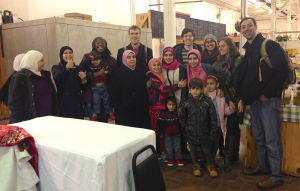 a program of the Farmers Market in Hershey & Summer Concert Series, a project of TFEC's, fiscal sponsor
The devastation of the Syrian Civil War over the past five years has resulted in what Amnesty International has referred to as "the worst humanitarian crisis of our time." Since the beginning of the armed conflict in 2011, well over 250,000 Syrians, over half of whom are civilians, have passed away. Nearly 5 million people (out of a population of ~22 million) have fled Syria during this time—their homes, schools, workplaces, hospitals, and places of worship destroyed. As a result of this displacement, young Syrians are being called the country's "Lost Generation."
In the United States, little has been told about the fates of those families who are fortunate enough to be successfully resettled. Of this refugee population, the United States has resettled approximately 12,000 (~0.24% of the total), and, as of October 2015, Pennsylvania had taken in 115 people.
Catholic Charities of Harrisburg has been an excellent primary short-term support system for refugees here in south-central PA; however, the needs of resettled families extend far beyond what Catholic Charities alone is able to provide. Keeping up with rent, heating and utility costs, food, clothing for multiple children, medical expenses, educational expenses, household supplies, and myriad other needs (e.g. lack of access to transportation, language skills) simply outpaces available resources, to make no mention of the difficult transition to the culture of a new country.
Food as Medicine
We are a group of students in a "Food as Medicine" program at the Penn State University College of Medicine who have gotten involved with nine Syrian families recently resettled in our community. So far, our activities together have consisted of transporting the families to the local Broad Street Market to buy fresh produce, gathering, organizing, and distributing personal donations, and raising awareness of the needs of our families amongst our colleagues.
We need your help
Now, we are asking for your help in making Harrisburg a permanent home for these nine families. All funds raised will be used to address the above needs and those that emerge as the families continue to acclimate to Central Pennsylvania. If you are interested in donating clothes, household supplies, or other resources, please contact Danny George at drg21@psu.edu.
Click below for brief biographies of some of the families with whom we are working.
Since we've began writing this appeal at the beginning of December, six additional families have approached us for help, with some arriving as recently as mid-December. This brings our total to over 60 persons. To conclude, these are 60+ people who have dropped and risked everything to begin a new life here in the United States. Let's do our part to properly welcome them to their new home.
Thank you for considering a donation!
---