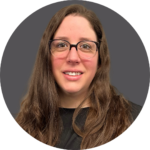 HARRISBURG, PA — The Foundation for Enhancing Communities (TFEC) is pleased to announce that Caitlin Cluck has been promoted to Director of Community Investment. 
Caitlin was promoted from her previous position as Community Investment Officer to Director of Community Investment on April 1, 2023. In her new role, Caitlin will oversee the scholarships and grants for TFEC and its regional foundations and supervise four team members of TFEC. Caitlin will continue to report to Jennifer Doyle, Vice President of Philanthropy and Community Investment. 
Caitlin joined the TFEC team in February 2022. She has a degree in Psychology from Mansfield University and a Certificate of Nonprofit Management from Temple University. Caitlin has 10 years of nonprofit experience with six of those years spent in grantmaking. Previously, Caitlin worked with the American Lung Association for five and a half years in various roles related to the Tobacco Control grant work the organization does in Pennsylvania. 
Caitlin has a passion for helping the community by utilizing her administrative skills and ability to keep the big picture in mind. She currently serves on the Capital Area Coalition on Homelessness (CACH) Board of Directors. 
### 
ABOUT THE FOUNDATION FOR ENHANCING COMMUNITIES
The Foundation for Enhancing Communities (TFEC), the 18th oldest community foundation in the United States, inspires giving by partnering with donors to achieve their charitable goals, and strengthens our local communities by investing in them now, and for future generations. TFEC has been serving the South-Central Pennsylvania counties of Cumberland, Dauphin, Franklin, Lebanon, and Perry, and the Dillsburg Area for 102 years. Regional foundations of TFEC include the Greater Harrisburg Community Foundation, the Franklin County Community Foundation, the Mechanicsburg Area Community Foundation, the Perry County Community Foundation, and the Dillsburg Area Community Foundation.  
For more information on TFEC, please visit www.tfec.org.