On November 3, 2017, the Women's Fund will honor local female philanthropists at the 2017 Power of the Purse with the Karen Snider Women in Philanthropy award. Nominations are now being accepted online and are due by no later than September 1, 2017.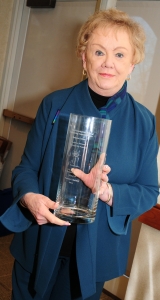 In 2017, the Women's Fund officially changed the name of the Women in Philanthropy Award to the "Karen Snider Women in Philanthropy Award". Karen Snider, long-time Women's Fund supporter and the inaugural recipient of this award in 2011, passed away earlier this year. Karen embodied the criteria of this award – she dedicated her life to improving the lives of others, gave freely and selflessly of her time and resources, and was an inspiration to all who knew her. She will be greatly missed by the Women's Fund, the community-at-large, and by those who knew her. Our community was a better place because of her.
We are seeking candidates that possess the following qualities and requirements:
Gives freely and unselfishly by providing her time, talent and treasure to philanthropic community activities
Inspires others and acts as a role model
Has a positive impact on the direction and success of women and children related to community projects, programs or individuals
Improves the lives of others
Must be female
Must have worked or lived in your local area of: Cumberland, Dauphin, Franklin, Lebanon, or Perry Counties, as well as the Dillsburg Area
Must have demonstrated an interest in issues related to women's health, education and economic self-sufficiency
Must have provided a financial commitment to the Women's Fund and/or other women's issues programs or projects within your local area
ABOUT THE POWER OF THE PURSE
Start your weekend early and come ready to shop! The Power of the Purse is a great celebration combining information sharing with laughter and the opportunity to make new friends. In addition to the awards, there will also be a purse auction to raise money for the endowment fund. The Women's Fund was created in 2000 to broaden the awareness of, and respond to, issues affecting women and girls through the power of collective philanthropy. All proceeds from the Power of the Purse benefit the Women's Fund Endowment, which makes annual grants to programs/initiatives that serve women and girls in the South Central PA counties of Dauphin, Cumberland, Franklin, Lebanon, Perry, and the Dillsburg Area. Click here for more information or to buy your tickets today!