by Michael Ritter, MPA, CTCP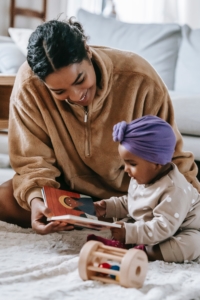 Lebanon County may be remembered as the county that went rogue in 2020, defying the governor's COVID emergency orders. But the leaders of Connected Together, Lebanon County's trauma-informed communities work group, hope the county can be remembered for a reason far less polarizing. In February 2020, just before the pandemic hit the U.S., Connected Together leaders positioned Lebanon County to become the first community in all of Pennsylvania to join more than 40 other localities in The Basics Learning Network, the international community of organizations focused collectively on learning, innovating, and continuously improving methods of spreading The Basics Principles.
The Basics Principles are five science-based caregiving tenets of early childhood brain development, distilled from scientific literature with help from a national advisory committee of child development experts. The principles are: 1) Maximize love, manage stress; 2) Talk, sing, and point; 3) Count, group, and compare; 4) Explore through movement and play; and 5) Read and discuss stories.
The Basics is a campaign that emerged from work at the Achievement Gap Initiative (AGI) at Harvard University and the Black Philanthropy Fund. AGI research demonstrates that cognitive skill gaps are starkly apparent by age two, during a period of extraordinary brain development that sets the foundation for all future learning, and long before children enter formal education. The Basics campaign is "grounded on the belief that equalizing opportunities for brain development during early childhood is a critically important component of a societal strategy for long-term social, political, and economic vitality." In short, The Basics not only build cognitive skills for learning, but also social-emotional skills – things like managing emotions, setting positive goals, empathy for others, making responsible decisions, and maintaining positive relationships. The Basics aligns closely with Connected Together's belief that relationships matter to the prosperity of our children, families, neighborhoods, institutions, and even the economy, as well as the group's vision, Kindness is a Way of Life, described more specifically as a community of individuals, families, and organizations who engage with one another, first and always, from a place of kindness, compassion, and authenticity.
Initial investment from the Pennsylvania Coalition Against Domestic Violence (PCADV) enabled Connected Together to begin implementing The Basics in Annville Township. Specifically, a significant portion of grant funds were used to locally brand the initiative, so instead of The Boston Basics or just The Basics, the local initiative is known as The Basics Lebanon Valley to distinguish it from the other BLN communities. Connected Together has spent the past year building awareness of the initiative by posting flyers throughout Annville, hosting virtual community presentations, displaying a billboard on the westside of the township, and by working closely with Annville-Cleona School District's First 10 Initiative and Annville Free Library's Smart Start Story Time program. Connected Together is currently weighing the feasibility of setting up "Family Read, Play & Learn" kits, which are uniquely designed to create safe, fun, and engaging places for children and families in laundromats. Connected Together also has long-term plans to sign-up local residents for Basics Insights Text Service. Basics Insights is a text messaging program for parents and caregivers of infants and toddlers that sends science-based tips to boost a child's development. The text messages offer ideas for using the five Basics Principles in everyday moments.
The Basics Lebanon Valley will eventually be launched in Lebanon City, Myerstown Borough, and Palmyra Borough. These four municipalities were selected for implementation because they have the largest number of households living under what is known as the ALICE Threshold. ALICE stands for Asset-Limited, Income-Constrained, Employed and represents the Pennsylvanians who work, but struggle to survive.