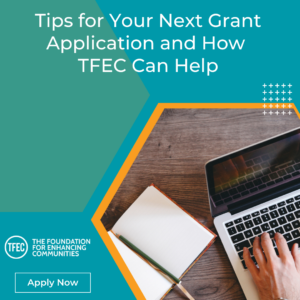 When it comes to applying for grants, it's crucial to identify opportunities that align with your needs and service area. The Foundation for Enhancing Communities (TFEC) offers a range of competitive grant opportunities throughout the year, with deadlines on February 1, May 1, and September 1. 
At TFEC, we evaluate each grant proposal based on adherence to guidelines, criteria, and funding priorities. Drawing from our extensive experience in grantmaking, we've compiled some valuable tips to enhance your next grant application.
Tips for Your Next Grant Application 
Write the application as if someone who has never heard of your organization is reading it.

Being an expert in your organization, it can be hard to take a step back and make sure you are explaining your organization in full. When completing your application, try to write it from the perspective that the person reading it has never heard of your organization. Many grant applications are great at showing the need but miss providing the nitty gritty details.

Be specific.

Provide

all

pertinent

information

–

who, what, where, when, why, and how

– but be specific.

For example,

if you are running an

after-school

program, the grantmaking committee would like to see the full picture such as how are you promoting it to schools in the area, do you have agreements with the schools already, how are you planning to transport the students to and from the program, etc.

 

Highlight any partnerships.

Emphasize any collaborative efforts or partnerships in your application. This

demonstrates

that you are working with other organizations to enhance support and maximize resources.

Showcasing

multiple agencies involved in

utilizing

the grant suggests a broader impact.

 

Take advantage of TFEC's grantmaking resources.

Individuals and organizations often come to us with similar questions. Many want to know what grants are available and how to get started, others simply need technical assistance. The resources listed are here to help point you in the right direction.

Click here

to learn more.

 

Schedule a consultation before applying. All potential applicants are welcome to attend an orientation with a member of our Community Investment Team. Send an email to

grants@tfec.org

to request an orientation.

 

Request technical assistance from a member of our team. All applicants are invited to contact the Community Investment Team at 717.236.5040 or

grants@tfec.org

to discuss a proposed project or application. Applicants may request one review of their draft application materials made no later than two weeks prior to the submission deadline.

 
Questions regarding our grant opportunities? Get in touch with us at 717.236.5040 or grants@tfec.org.