Author: Janice Black, President & CEO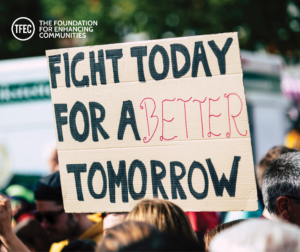 It can be hard to feel like a community these days. We cannot be with our loved ones; the proverbial "aisle" slices through this nation like butter, placing us on the right or the wrong side of history, and arenas of civil discourse are like spilled gasoline waiting for a spark.
The unequal effect of the pandemic on persons of color as well as other recent incidents has focused our attention on a problem that was never far from our concern –  racial inequality and exclusion.  TFEC, now,  as is the past, is committed to being part of the solution.
But how? How do we right past wrongs and injustices? How do we balance the scales to promote equality? We move forward with passion, dedication, and commitment to social change.
TFEC believes in uplifting voices outside the mainstream and empowering those who have been silenced. As a community foundation, we are an agent of change to inspire philanthropy and unite a diverse group of people around a common goal; improving the lives of all members of our community. Our work must reflect those we serve and give voices to the voiceless.
To our communities of color, we hope you see us as a strong partner. We are committed to working to facilitate lasting change in our region. We want to move forward and encourage civic dialogue and equip people with the tools to have positive conversations about diversity, equity, and inclusion.
Forward doesn't mean we forget our past or where we came from. Forward doesn't mean we forget all past injustices, wrongdoings, hurt, and prejudice. Moving forward means that with a renewed conviction of equality and inclusion for all, we work together to find solutions that lead to the prosperous success of all community members.
I urge you to get involved, become an ally, and use your voices to stand up for what's right. Join us to help our region move forward into a better, brighter future for all members of our community.